India, Russia hit the ground running with MTA deal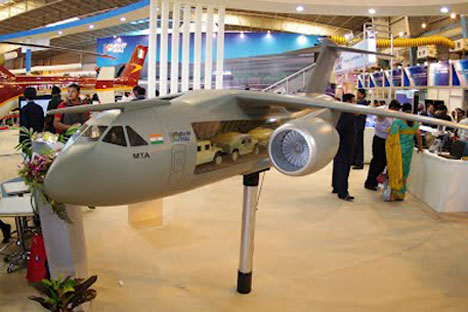 The Multirole Transport Aircraft (MTA). Source: Vijainder K Thakur
The 15-20-tonne MTA, when developed, will be capable of short landings and takeoffs and ferrying 80 fully equipped troops.
Russia and India signed the initial design phase contract for the $600-million Indo-Russian military transport aircraft project, the Multirole Transport Aircraft (MTA), a day before Dmitry Rogozin arrived in New Delhi for a series of meetings.
The MTA deal is one of the many that are expected to be signed in the next three weeks of Indo-Russian diplomatic engagement that would culminate in Russian President Vladimir Putin's India visit, beginning October 31. A $3.77 billion deal for the supply of 40 SU-30MKI Russian fighter aircraft to India is another defence deal expected to be signed between India and Russia during Putin's visit. The MTA agreement has come as a major step forward to prepare the diplomatic high table before Putin arrives in India.
The MTA agreement was inked by the Bangalore-based Hindustan Aeronautics Limited (HAL) with the United Aircraft Corporation-Transport Aircraft (UAC-TA) of Russia, and their 50:50 joint venture partner, Multirole Transport Aircraft Ltd (MTAL). The three had signed the earlier general contract in May 2012.
MTA's USP
The USP of the 15-20-tonne MTA, when developed, will be that it will be capable of short landings and takeoffs and ferrying 80 fully equipped troops, or infantry fighting vehicles like the Soviet origin BMPs and equivalent western systems, artillery pieces and ammunition. BMP stands for Boyevaya Mashina Pekhoty 1 (Russian: Боевая Машина Пехоты 1), meaning 'infantry fighting vehicle.' The BMP-1, the world's first mass-produced infantry fighting vehicle, was a revolutionary design combining the properties of an armoured personnel carrier and a light tank.
The aircraft would be useful in natural disaster relief missions and also for executing battlefield medical evacuations. It will transport troops and cargo, paradrop or air drop supplies, including 'low-altitude parachute extraction system'.
The MTA project, initiated in November 2007 when Indian Defence Minister AK Antony travelled to Russia and the two countries signed the Inter-governmental Agreement for the project, is meant to make India self-reliant in the design, development and production of transport aircraft of this dimension, and the experience required to manage a large number of global suppliers. The two sides are working on some very tightly-framed deadlines with the first flight of expected in 2017 and regular production by 2020. However, the MTA calendar may witness some change.
More Details
According to HAL, the medium category twin-engine aircraft would be a typical military aircraft, would be designed to replace India's 100-plus Soviet vintage AN 32 aircraft, which are now under overhaul and upgrades in Ukraine. The first AN 32 had arrived in India in 1984. The two countries have pooled in about $300 million each to develop the aircraft. However, the two countries would share the design and production responsibilities also on 50:50 basis.
The aircraft will have a glass cockpit for electronic instrument displays, fly by wire controls, full authority digital engine control (FADEC) engines, 800 kmph cruise speed, a range of 2500 km, while its service ceiling would be 12 km.
The Indian Defence Ministry said that on completion of the agreed work share of the Preliminary Design Phase (PDP) contract for the MTA on October 12, 2012, the Detail Design Phase (DDP) contract will be signed soon to complete the design and development of MTA. HAL will carry out the design and development of its work share of the MTA at the Aircraft R&D Centre (ARDC) at Bangalore while it's Transport Aircraft Division (TAD) at Kanpur will manufacture the prototypes and subsequently the serial production will be undertaken at Kanpur where dedicated facilities are being set up. HAL's other R&D Centres and manufacturing Divisions will share development of systems and LRUs and manufacture of components, sub-assemblies and composite structure. HAL will showcase its expertise in design of aircraft as well as systems, manufacturing and flight testing while jointly working with the Russian team in Moscow as well as in India.
The MTA deal is the latest in a string of defence deals highlighting the long-standing strategic partnership between India and Russia.
The writer is a New Delhi-based journalist-author and a strategic analyst.
All rights reserved by Rossiyskaya Gazeta.