High potential exists for Indo-Russian energy collaboration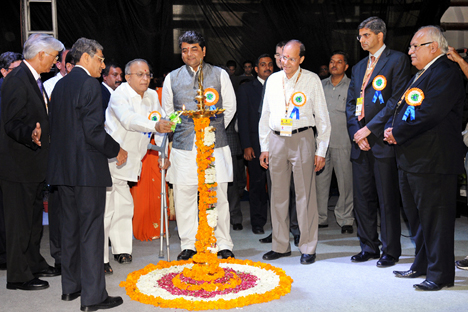 The Petrotech-2012 conference in New Delhi on October 14-17. Source: Press Information Bureau
Gazprom's LNG supply agreement and the invitation to ONGC to invest in Magadan are just the tip of the iceberg.
On October 14, 2012, Russian Deputy Energy Minister Yury Sentyurin invited the Indian Government to invest in the Madagan 2 field in the northern part of the Sea of Okhotsk. The minister also revealed that Russia offered India the opportunity to invest in this project during the joint working group meeting in New Delhi.
Russia is taking part in the Petrotech-2012 conference hosted by New Delhi on October 14-17. The Managing Director of India's oil and natural gas giant ONGC Videsh Limited (OVL), D. K. Sarraf admitted that "ONGC is aggressively looking to expand its overseas portfolio," and agreed that "Russia is a valuable destination for us. We are evaluating a few opportunities for taking interest in oil and gas assets." He further stated, "An OVL team has just returned from Moscow after studying data."
According to the International Energy Agency's analysis, by the year 2030, India and China will account for 70 per cent of the global oil demand. Their combined oil imports would increase from 5.4 million barrels per day in 2006 to 20 million barrels per day in 2030, overtaking the current combined imports of Japan and the US. The agency argues that rising incomes, growth in housing and construction, and the increased use of electrical appliances will substantially increase demand. Energy demand particularly in the transport sector is set to rapidly grow as vehicle ownership, particularly of four-wheel vehicles, is going to increase in the coming years with the rising middle class in India. India's rapidly growing economy, set to grow at a rate of at least 6.5 per cent (or higher) over the coming decades will lead to substantial increase in demand for energy. India has oil reserves of about 5.9 billion barrels (0.5 per cent of global reserves) with total, both calculated and expected, of about 11 billion barrels, mostly located in fields offshore Mumbai and onshore in Assam. India's major imports are from the Persian Gulf region. With the current rate of demand, the International Energy Agency projects that India's dependence on oil imports will grow to 91.6 per cent by the year 2020.
India is the fourth largest oil consumer in the world after the US, China and Japan. As per 2008 estimates, India ranks as the world's sixth largest energy consumer, accounting for about 3.3 percent of the world's total annual energy consumption and as the world's eleventh energy producer, accounting for about 2.4 per cent of the world's total annual energy production. Despite the production, India is a net energy importer due to the large imbalance between energy generation and consumption. According to the International Energy Agency, coal/peat account for about 40 percent of India's total energy consumption, while combustible renewables and waste account for about 27 percent. Oil accounts for about 24 percent of total energy consumption and natural gas six percent, hydroelectric power almost 2 percent, nuclear nearly 1 percent, and other renewables less than 0.5 percent. The question then rises about the prospects of diversification of energy sources by opting for collaboration with other energy rich countries.
Besides exploring energy resources at home, the other option to gain energy security is to seek resources abroad. In this context, Russia with its huge resources of gas and oil can help meet India's energy requirement significantly. Whether it is Russia's Caspian Sea basin region or Far East or Arctic region, Russia holds immense resources of energy. Despite good political will between the two countries, the potential in bilateral energy cooperation have not been explored in full measure. Despite the inter-governmental committee between the two countries being operational, bilateral economic cooperation lags far behind than the potentials. However, one of the major achievements in Indo-Russian bilateral energy cooperation is Indian investment in Sakhalin-1 at the cost of $ 1.7 billion, which is the highest Indian investment in any other foreign country in energy sector. Among the joint venture projects between the two countries, the most notable one is Sakhalin-1, where OVL has acquired a 20 per cent participating interest in the project. It is involved in the project through a consortium arrangement with Exxon-Mobil, Sodeco and the Russian companies RN Astra and SMNG. In 2008, OVL bought the Imperial Energy oil company in western Siberia.
Another major deal signed on October 1, 2012 is worth mentioning in this context. Under this deal, a 20 year agreement has been signed between Russia's Gazprom and India's GAIL for the supply of liquefied natural gas (LNG) to India. As per the Gazprom statement, "Under the terms of the agreement, GAIL will receive 2.5 million tonnes per annum of LNG (equivalent to approximately 3.5 bcm per annum) over a period of 20 years."
There are many ways to boost bilateral economic cooperation including energy cooperation. One of the possibilities is to establish the north south corridor from Arabian Sea to Russia via Iran. A lot of debates have already taken place, but it seems the proposal lacks proactive measures from the governments. Another potential is to establish Turkmenistan-Afghanistan-Pakistan-India (TAPI) pipeline to funnel not only Central Asian but also Russian oil and gas. Perhaps the emerging interactions between India, Russia and Pakistan will facilitate the realisation of this idea. India and Russia on many occasions have explored the idea of joint ventures to explore energy in third countries.
The recent offer furthers the prospects of energy cooperation between the two countries. Madagan 2 is one of the five fields operated by Russian company Rosneft in the area of sea of Okhotsk. The other blocs include Magadan-1, -3, Lisyansky and Kashevarovsky. The Russian Government leased these blocs to Rosneft in 2011, which in turn could successfully elicit interests of many world companies like Statoil of Norway. As per the Rosneft estimate, the total recoverable resources at these deposits stand at over 1.1 billion tones of liquid hydrocarbons and 2 trillion cubic meters of gas, which include 850 million tonnes of oil and 1.789 trillion cubic metres of gas at the Madagan 1, 2 and 3 blocks.
Despite many ups and downs, some of which are amplified without any solid base, India-Russia relationship has surged ahead. Despite the sour moments as in the case of Admiral Gorshkov, or situations like that of Kudankulam, or many other deals including in arms, the relationship has never taken a drastic downward spiral. The relations have rather become further mature, shedding old paradigms of thinking and infusing new vigour into the relations. India's investment in Madagan 2 will not only boost economic cooperation between the countries but also contribute to India's energy security.
The writer is an Indian commentator. His areas of interests include India-Russia relations, conflict and peace, and strategic aspects of Eurasian politics.
All rights reserved by Rossiyskaya Gazeta.