Société Générale to let the consumer lead the way
Disappointed with its retail business worldwide, the French banking giant sees an opening for growth in its Russian subsidiaries, particuarly Rosbank.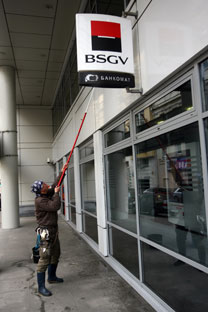 Société Générale plans to increase its offerings in Russia. Source: ITAR-TASS
Societe Generale, France's second largest bank, is looking to increase the profitability of retail operations at its subsidiaries in Romania and Russia by end 2013, according to bank chairman and CEO Frederic Oudea, who made the statement in an interview with the Financial Times. In explaining the decision, Oudea noted the disappointing performance of the group's international retail business, and the company's desire to increase profitability in this sector by the end of 2013. In Russia, Societe Generale Group subsidiaries include Rosbank, Delta Credit and Rusfinansbank. Oudea said that Rosbank is finding it difficult to compete with such large state-owned retail banks as Sberbank and VTB.
Retail business is the key for Rosbank. Chairman of Rosbank Executive Board Vladimir Golubkov said the bank is one of Russia's top three banks in the segment and fully intends to remain there. Since the beginning of 2012, the bank's retail portfolio has increased by 8 percent, and growth of 18 percent is slated by year's end, Golubkov said. "People's credit activity is quite high. In August, we issued loans worth more than 12 billion rubles ($384 million)," said Golubkov. Russia's Central Bank estimates that since January, retail lending in Russia has risen by more than 26 percent. "The anchor product is a mortgage: it allows you to build lasting relationships with customers. Cash loans, credit cards, and traditional auto loans are also common," Golubkov said.
Rosbank's retail portfolio in the first half of this year totaled 193.6 billion rubles ($6.1 billion), of which mortgages made up roughly 23.8 percent, auto loans 34.5 percent, credit cards and overdrafts 7.6 percent, with the remainder made up by general-purpose loans. Rosbank's profit for the first six months of 2012 was 5.9 billion rubles ($188 million).
If growth continues at the present rate, the bank's loan portfolio could see an increase of 18 percent by year's end; meanwhile, Delta Credit's portfolio in the first half increased by 8 percent to 67.6 billion rubles ($2.2 billion) and could rise by the same amount in the second, according to analyst Olga Ulyanova of Moody's. Analyst Yury Tulin of Gazprombank said that Rusfinansbank's portfolio remained fairly static in the first six months of the year, decreasing by a few tenths of a percentage point to 101.1 billion rubles ($3.2 billion). According to Andrei Maltsev deputy chairman of Nordea Bank, Societe Generale's decision in favor of retail is perfectly logical: Western banks can borrow on attractive terms, which gives them a competitive advantage and allows them to vie with state-owned banks — the same benefits don't apply in the corporate segment, which makes it harder for foreign banks to compete with the Russian heavyweights.
All rights reserved by Rossiyskaya Gazeta.