Interpreting Shostakovich: Shostakovich Festival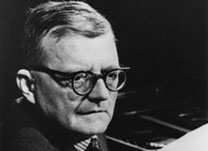 Russian composer Dmitry Shostakovich (1906-1975). Source: Press Photo.
This three-week festival— interpreting Shostakovich the man, Shostakovich the composer, and specific Shostakovich compositions—comprises three concerts at the National Gallery of Art, Dumbarton Concerts, and Georgetown University, as well as four film events at the National Gallery.
The participants:
Solomon Volkov; author of Shostakovich's memoirs,
the eminent British filmmaker Tony Palmer ("No one makes better films about musicians"—The London Times);
film historian Peter Rollberg;
music historian Roy Guenther.
All rights reserved by Rossiyskaya Gazeta.