India, Russia to ease access to pharmaceutical markets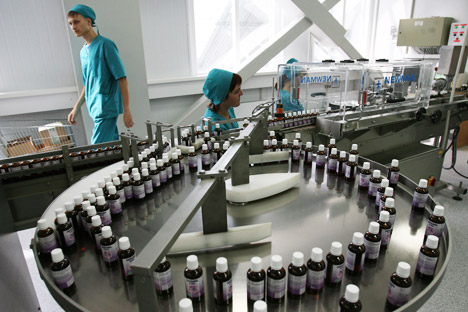 Product registration can take two to three years in both Russia and India but the new regulations are likely to drastically reduce this period, opening up new avenues for Indian companies. Source: PhotoXPress
New regulation in both countries will cut down registration procedures that can take up to 3 years, opening up new avenues.
In what could be a major boost to pharmaceutical companies in both countries, India and Russia are liberalising registration of new medicines to improve trade, PTI said on Wednesday citing a senior Indian official.
"A memorandum of understanding for facilitating a mutual, quicker and easier registration for drugs and pharmaceutical products between India and Russia is in the pipeline," the news agency quoted Joint Secretary in the Indian Government's Department of Pharmaceuticals, Raja Sekhar Vundru as saying.
The countries had signed a memorandum of understanding in 2010 for cooperation in the pharmaceutical trade and industry and in order to implement the MoU, Russia and India are working to set up a task force to exchange knowledge and views, Vundru told PTI.
The Russian pharmaceuticals market, currently estimated at $18 billion, is expected to grow to $60 billion by 2020. At the moment, India has a minor share of about 3 percent of the $12 billion drugs that Russia imports, the agency said.
Indian pharmaceutical companies encounter several hurdles in the Russian market with product registration and the Russian insistence of clinical trials within the country. Russia does not accept the results of US FDA trials.
Ranbaxy Global Pharmaceuticals Business (President) Rajiv Gulati told PTI that the "registration process in Russia has become very onerous and unrealistic ... they insist for repeating clinical trials, which leads to delays in registering new products."
Earlier this year, Sandeep Nasa, general director of Unique Pharmaceutical Laboratories told RIR that Indian companies needed to be patient and think long-term when entering the Russian market. "There is some bureaucratic hurdle but if you understand the market properly it can be overcome," Nasa told RIR.
Product registration can take two to three years in both Russia and India but the new regulations are likely to drastically reduce this period, opening up new avenues for Indian companies.
Official sources told PTI that the Indian pharmaceutical industry is interested in supplying 57 strategically identified medicines to Russia.
The share of foreign drugs in the Russian pharmaceutical market amounts to 70 percent, but Russia's Ministry of Industry and Trade has set an ambitious goal to increase domestic drug production up to 40 percent. As a result of Russia's official accession to the WTO, the customs duties imposed on medicines have dropped from 15 percent to about 6.5 percent.
The Indian pharmaceutical industry is estimated to be $19 billion industry with about $10 billion in exports.
All rights reserved by Rossiyskaya Gazeta.