Russian masters of Indian dance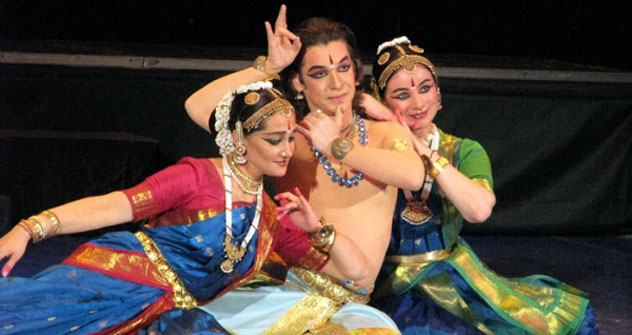 Indian classical forms are more than just dance for these Russians; they are a way of life.
The recent International Dance Festival organised by the Indian Council for Cultural Relations brought to New Delhi a showcase of foreign artists who've excelled in Indian classical dances. The Russian participants outnumbered those from other countries. The performers who belong to a Moscow based creative association, Nritya Sabha, rendered outstanding Kathak and Bharatnatyam performances. It turns out that these ladies are not just adroit dancers but devout exponents of their chosen styles.
"They are committed to their profession and very passionate and focussed about it," observed Jayalakshmi Eshwar, a noted Bharatnatyam master, who was working with the international artists to choreograph a joint act for the festival. "Their profound level of involvement with our culture is evident," she said. Indeed, a strong affinity for Indian cultural and spiritual heritage has been pivotal to their pursuit of traditional dance forms.
Tatiana Nazarova, co-founder and Artistic Director of Nritya Sabha, started learning Kathak in 1992 under the tutelage of Shakti Roberts, who was one of the earliest teachers to be posted at the Jawaharlal Nehru Cultural Centre in Moscow, the institution which has played a key role in promoting Indian culture in Russia. Tatiana was later granted a scholarship to pursue the Advanced Course at the National Institute of Kathak, 'Kathak Kendra,' in New Delhi. She studied for an extended duration of eight years under the guidance of Munna Shukla, an eminent teacher from the Lucknow Gharana (school of dance). "Our teachers didn't just teach dance but a complete approach to life," Tatiana touches her ears while taking her guru's name as is customary amongst Indian classical dancers, "we learnt from books as well as from real life. We visited historical and religious places so that we could truly comprehend the essence and roots of Kathak in culture and mythology," she cherishes an invaluable learning experience. She performed a duet with Eleonora Margorina her colleague from 'Kathak Kendra' at the event.
Irina Iskorostenskaia, Co-founder and Director of Nritya Sabha, was inducted into ballet at the age of six. In 1986 she began training in Bhartnatyam under Nirmala Ramachandran. At her mentor's suggestion, Irina enrolled at 'Kalakshetra' in Chennai. After earning the Diploma she stayed back for additional intensive training. Irina is now a respected teacher and so are two of her protégés - Alisa Afanasyeva and Margarita Afanasyeva, who also performed at the festival in Delhi.
Irina's quest for a deeper understanding of Bharatnatyam seems unending. She has been returning to 'Kalakshetra' to advance her skill. "I am attracted to the profoundness of this dance," Irina describes her attachment, "The bhava aspect (emotions) gives expression to inner feelings. It involves lasya, which means feminine grace in lines and movements, as well as lots of energy."
Nadezhda Kovriga is Irina's contemporary and also an alumnus of 'Kalakshetra.' Her dance is infused with a staunch spiritual belief in Lord Krishna. "Learning Indian classical traditions makes you grow individually and spiritually," Nadezhda considers Bharatnatyam a means for holistic personal development, "It makes you a better person because you've to be much disciplined."
Having participated in major dance events as students in India, they continued performing once they returned home. They also showcased their talents outside of Russia and India. It was their shared belief in the value of Indian classical dance and a vision to promote it which led to the formation of 'Nritya Sabha' as a 'foundation of Indian cultural heritage studies.' It is an institute which propagates knowledge of Indian dance as well as culture through a number of trainings, seminars, and exhibitions. It is also a production house which has a repertoire rich in traditional as well as fusion dance dramas. Some of their popular ballets are Panch Bhut, Das Avatar, Shrishti, Ritu Chakra, and Raga Ranga. In an effort to impart training at par with the schools in India, often professional dancers from India are invited to perform in Russia. It is a platform to strengthen cultural relationships between the two countries and motivate youngsters to pursue India's heritage.
"It is the meaningfulness and the abhinaya (enactment) aspect which distinguishes Indian classical dances from any other in the world," Tatiana treasures her Kathak practice as unique. "These classical forms take dance beyond the physical skill. Dance becomes a way of life," Irina underscores the values she inherited from Bharatnatyam. Driven by such earnest belief, these passionate and dedicated dancers have become ambassadors of Indian culture in Russia.
All rights reserved by Rossiyskaya Gazeta.