Russian natural gas to flow to India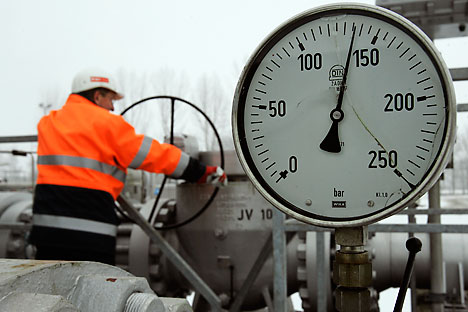 Russian giant Gazprom signed a 20-year contract for the supply of LNG with India's GAIL in early October. Source: AP
With the contract with GAIL under its belt, Gazprom will have an easier time deciding on the required capacity of its LNG plant in Vladivostok.
Russia and India recently signed their first major long-term contract for the supply of liquefied natural gas (LNG). If its own projects don't go live by the contract start date, Moscow will have to buy the raw materials elsewhere.
Russian giant Gazprom signed a 20-year contract for the supply of LNG with India's GAIL in early October, with India due to receive 2.5 million tonnes of liquefied natural gas annually. The deal could pave the way for a slew of similar natural gas contracts with other Indian companies. Gazprom signed memorandums of understanding with four Indian partners in the summer of 2011: GAIL, Gujarat State Petroleum Corp, Petronet and Indian Oil Company Ltd. The total volume of potential LNG supplies was estimated at 10 million tonnes (around 13 billion cubic metres of natural gas) at the time.
Europe is currently the key market for Russian natural gas but Gazprom has been actively seeking alternatives given the deterioration of the economic situation in the continent. The promising market of China, which shares a land border with Russia, is a rather problematic alternative, according to Konstantin Simonov, director general of the National Energy Security Fund. Russia is in talks over shipping natural gas to China via pipelines, but apart from the country's rather tough position on price, analysts suspect that the supplies would be sourced from old West Siberian reserves rather than new East Siberian fields. "This is quite a defeatist idea – to pull the gas out of the European market and send it to China via a pipeline instead," Simonov said.
India, whose energy situation is almost identical to China's, may become a more attractive partner for Russia, because it wants to buy LNG. However, the problem is Gazprom currently produces liquefied natural gas only in one plant in Sakhalin, which has a capacity of just 10 million tonnes. And all of that gas is already accounted for.
There are currently no alternative sources of LNG. The development of the Shtokman field, where another gas liquefying plant was set to be built, has been put on hold. Construction of another plant in Vladivostok is scheduled for completion only by 2019, with no understanding of its target capacity so far. Estimates range between 10 and 20 million tonnes per year.
This project faces other challenges as well. Gazprom hasn't yet been able to get the government to approve a reduction or elimination of the mineral resource extraction tax for the Kirinskoye field, which will supply natural gas to the Vladivostok plant. The project could be pushed back unless the tax break is granted.
In signing the contract with India, Gazprom has evidently entered into swap deals. "The idea was simple – stake out India's market and then try and supply it via swaps, Simonov reckons. This is exactly the arrangement Gazprom is operating under in the UK market. It has been so successful that after securing enough customers through such contracts, Gazprom is now considering building a separate branch of Nord Stream (an underwater gas pipeline from Russia to Germany) leading to Great Britain.
With the Indian contract under its belt, Gazprom will have an easier time deciding on the required capacity of its LNG plant in Vladivostok. As a matter of fact, the Eastern Natural Gas Programme, which calls for the supply of natural gas to Russia's eastern regions, announced with much hype a couple of years ago, has been off to a rocky start. Russia's eastern fields are rich in so-called "wet" natural gas with large amounts of admixture and the problem of setting up gas processing plants that would be able to refine the associated chemicals has not been resolved. "Whereas in America, wet gas is a huge source of profit, for Russia it is a disaster, because we don't know what to do with it. We need foreign partners, and active negotiations to attract them are underway," Simonov said.
Gazprom intends to share the burden of investments required to develop its giant eastern fields, most importantly the Yakut. Russian gas producers hope to launch this more challenging field first, so that they can develop the Kovykta field afterwards without any problems.
The gas contract with India will help Russia achieve one more objective – to strengthen its bargaining position in talks with China. "This would be a good way to put pressure on China," Mikhail Delyagin, director of the Institute of Globalisation Studies, said. "This is one more step towards signing a normal large-scale agreement with China. As the Chinese have taught me, the best way of bargaining is to leave the table."
The Chinese have been using exactly the same tactic. Inspired by the shale revolution in the United States, they are planning to increase shale gas production to 6.5 billion cubic metres by 2015 and 60 billion cubic metres by 2020 (their current consumption stands at 131 billion cubic metres). However, Russian experts are sceptical of the outlook for a shale revolution in China. The cost of producing shale gas in China may reach $240–$430 per 1000 cubic metres, Investcafe analyst Yulia Voitovich said. If the cost is close to the upper limit of this range, it would considerably exceed the price charged by Russia's gas producers.
There are other problems as well. Chinese companies lack the required production technology. That's why China has already bought several assets overseas: Sinopec has acquired a stake in the US-based Devon, while CNOOC has bought into Canada's Nexen. China has also been setting up joint ventures with foreign partners where the Chinese hold controlling stakes. "Developing shale gas deposits could be interesting for Russia in terms of technological advancement, but shale gas production is a rather risky business. That's why Russian companies are unlikely to be interested in developing shale gas deposits in China, especially as Russia has its own large reserves of natural gas that are far cheaper to extract than shale gas," the analyst said.
Konstantin Simonov shares this view. "Chinese shale is a fad. The outlook for production there is rather vague, because China lacks sufficient amounts of water (which is a necessary component of the technology). Coal mine methane projects are much more viable in China," he added.
All rights reserved by Rossiyskaya Gazeta.