Timofey Mozgov scores 10 points for Denver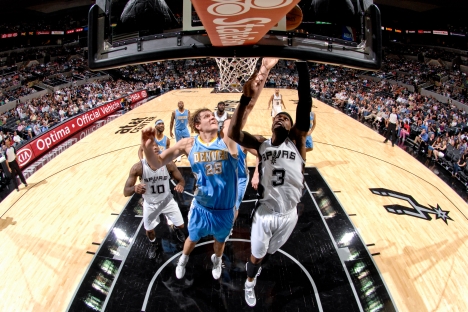 Timofey Mozgov of the Denver Nuggets made it into the Nuggets starting lineup for the first time the NBA preseason and helped his team build up a 6–1 lead in the game. Source: Getty Images / Fotobank
Timofey Mozgov made it into Denver's starting five for the first time this preseason and set a career high, scoring 10 points in the first three quarters in the Nuggets home victory over the Golden State Warriors.
The Denver Nuggets won their third game in a row and remain undefeated in the NBA preseason, beating the Golden State Warriors in their home opener.
Timofey Mozgov, who scored nine points in the team's recent game against the San Antonio Spurs, made it into the Nuggets starting lineup for the first time this preseason and helped his team build up a 6–1 lead early in the game. The Olympic bronze medalist grabbed a rebound, hit both free throws and later scored his first shot of the game. He went to the bench with 5:43 to go in the first quarter.
The Warriors managed to tie soon after Mozgov left, prompting the Nuggets' JaVale McGee, Ty Lawson and Danilo Gallinari to reply with seven unanswered points.
Mozgov made his second appearance on the floor with a little under 1:30 left in the second quarter. The home team was in complete control, despite a slim lead. The Russian provided an assist to Ben Uzoh, 25 seconds before the break. The Nuggets took a 3-point lead into the third quarter after Andre Iguodala, acquired in a trade from Philadelphia, hit one of his two free throws.
At the start of the third quarter, Mozgov caught a rebound and scored two more points. The Warriors managed to catch up again, but Gallinari's four points and Mozgov's two free throws gave Denver a five-point cushion. Mozgov went on to get a slam dunk, assisted by Gallinari – the Italian racked up18 points by the middle of the third quarter.
Mozgov's slam dunk help take the Russian player to 10 points for the game: a new career high.
The Warriors managed to tie once again, and they took the lead after Stephen Curry scored a 3-pointer on his way to a game-high of 25 points. The Nuggets managed to score six points in a row, only allowing the Warriors to edge slightly closer. Mozgov remained on the bench the entire fourth quarter, but Denver managed to hold on for a six-point victory.
First published in Russian in Gazeta.ru.
All rights reserved by Rossiyskaya Gazeta.