Bout's prison uniform set for auction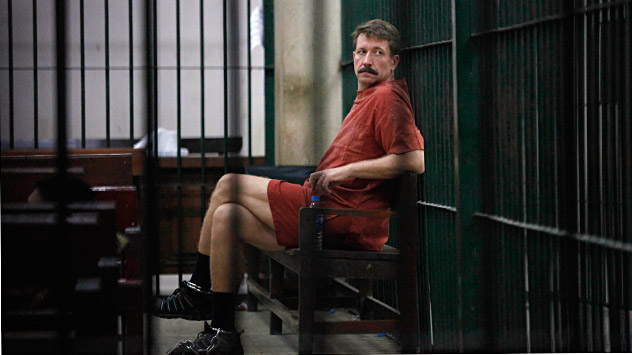 Viktor Bout's yellow-brigt robe will be set in an auction organized by his wife. Source: Reuters / Voctock-Photo
Today the wife of Viktor Bout will submit an application for the registration of a fund in support for Russians arrested abroad, convicted and serving prison sentence outside of Russia. The first event organized by the fund will be an auction where Bout's prison robe and items will be sold off.
An auction in support of Victor Bout, who is currently serving a prison sentence in the United States for arms smuggling, will be held in Moscow in December, 2012 and January, 2013. The auction's lot will comprise Bout's yellow-bright prison uniform, his personal items and books, Soviet style posters and t-shirts with his images. All money from the auction are expected to come to a new fund named "Chuzhbina" (Foreign Land), the wife of Victor Bout told the Izvestia newspaper.
"I brough from Bangkok his yellow-bright uniform in which he appeared in the court," said Alla Bout. "I got it in the prison. Besides, [I have his] personal items and books with his comments."
Last week she announced about her plans to file articles of association with the Ministry of Justice for the registration of the fund that would bring relief to Russians arrested, convicted, or serving prison sentences outside of Russia. Today she is going tol submit an application to register the fund.
"In spite of our financial difficulties, I have decided to set up a fund in aid of Russian people who, like Viktor, have found themselves in a difficult situation abroad. When you are locked up in an alien country and do not know to whom you can appeal, you feel totally vulnerable. I know this from my personal experience," Viktor Bout's wife told RIA Novosti.
Alla Bout is planning to establish a charitable and humanitarian fund but has not yet revealed who the trustees will be.
"I would like to say that the fund does not pursue any political goals – the goals are strictly charitable and humanitarian. We are a group of like-minded people, working in the name of the fund and its charter, and negotiating with the people who will be members of its board of trustees. We expect to file the registration documents with the Ministry of Justice this week," Bout said.
On Sept. 20, Ministry of Foreign Affairs spokesperson Aleksandr Lukashevich confirmed that Moscow would seek the return of Bout, in addition to the pilot Konstantin Yaroshenko. The latter was handed a 20-year prison sentences in the U.S., after he was found guilty on charges of conspiring to distribute narcotics.
"We are still waiting to see what the American reaction will be. Unfortunately, there has been none so far," Lukashevich said. He added that Russian diplomatic missions are in constant contact with both prisoners to provide them with help and support.
Russia's Foreign Minister, Sergei Lavrov, also stated at the APEC summit in Vladivostok that Russia would seek to bring Bout and Yaroshenko home. Prior to this statement, on Aug. 23, Russia sent U.S. authorities the necessary diplomatic documents for Viktor Bout's extradition. This move followed Bout's consent to a request that had been filed with the U.S. Department of Justice, specifying the terms for his handover to Russia in accordance with the Council of Europe Convention of 1983.
Bout was sentenced to 25 years in prison and a $15 million fine in April 2012 for his intention to sell a set of weapons to the left-wing radical group FARC (Revolutionary Armed Forces of Colombia).
Moscow disagreed with the American court's verdict, describing it as "groundless" and "biased." The Russian Ministry of Foreign Affairs has promised to bring Bout back home to Russia, declaring that the topic will be a top priority in talks with Washington.
The story is based on the materials from the Izvestia newspaper and Vzglyad newspaper.
All rights reserved by Rossiyskaya Gazeta.