Central Asia: The emerging theatre for India-Russia partnership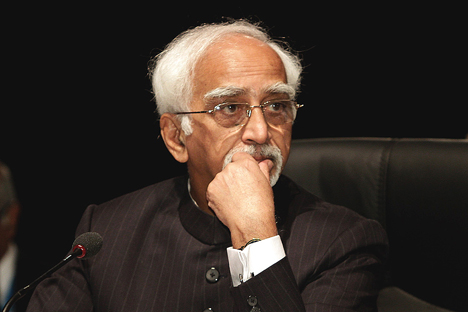 India's Vice President, Hamid Ansari. Source: Press Photo
The Silk Route can play a crucial role in reviving trade not only between India and Central Asia, but also between these two regions and Russia.
India's Vice President, Hamid Ansari while addressing a conference in Chandigarh last week, argued that "India wishes to eschew the archaic concepts of Great Game and Grand Chessboard and instead be a partner for peace, stability and economic development in the region (of Central Asia). India also hopes that the people of Central Asia do not give quarter to fundamentalism and religious extremism in their respective societies since these trends are disruptive and hamper progress." The argument of Ansari can be juxtaposed with the argument of Russian Deputy Minister Dmitry Rogozin in New Delhi last week. Rogozin argued that there are many issues at stake for India and Russia in Central Asia. He pointed out, "Thousands of terrorists and fundamentalists will seek refuge in Afghanistan as well as the region around the country. It may change the situation drastically around the region and for countries like Tajikistan, Kazakhstan and Central Asia. This is a big problem for Russia and India."
To this emerging kit of items on which India and Russia can cooperate can be added the prospects of opening new routes of transport, trade and commerce, cooperation to promote peace and stability in the region and Afghanistan, and the spirit of multilateralism. Worth mentioning in this context, India has signed strategic partnership agreement with three main players in the region, Uzbekistan, Kazakhstan and Tajikistan. India-Russia partnership too has an embedded strategic content in it.
Even during the Soviet era despite the overarching socialist frame, India enjoyed close relations with Central Asian region. Besides Indian students flocking the Soviet Union for academic purposes, India too had political connections with the region. India had opened its consulate in Tashkent. The city also played a crucial role in 1966 in bringing warring nations of India and Pakistan for a peace dialogue. Then Soviet Premier Alexei Kosygin had played a crucial role in the peace negotiations. With the collapse of the Soviet Union, the relations initially appeared lackluster, but gradually they picked up.
The initial years were marked by uncertainty, but later with Yevgeny Primakov assuming the chief role in foreign policy making Russia adopted a paradigmatic shift in its foreign policy with the new approach of Eurasianism and 'near abroad.' The momentum was further carried by Russian leaders like Vladimir Putin.
Interestingly though initial years were marked by dithering approach by the players towards the region, the period however witnessed some of the crucial overtures by the leaders. Uzbekistan President Islam Karimov's first stop after the country emerged independent was India. What tie more the regions of India and Central Asia is not mere political or strategic considerations, but also deep cultural and historical relations. In this context Silk Route played a significant role. The route not only carried trade, but also ideas. The route straddled the whole Central Asian region and also passed to India through Kashmir, and other regions like Afghanistan, Tibet and Xinjiang, and further.
While Buddhism flowed through this route to China, Sufism flowed through this route to India from Central Asia. Merchants traded headgears, machetes, woolen products, etc. in this route connected to great medieval cities like Samarkand and Bukhara. Interestingly, when Tajikistan celebrated the year 2006 as the year of Aryans, this not only created a sense of jubilation in India, but also reminded the countries the old historical legacies and relations.
The Silk Route can play a crucial role in reviving trade not only between India and Central Asia, but also between these two regions and Russia. This route is currently used by drug traffickers and for carrying religious fundamentalist and terrorist activities. The route euphemistically called route for drug trafficking and terrorism can be transformed into a route for trade and tourism. Drug traffickers in Afghanistan use this route through volatile borders of Central Asian countries to carry drug trade to Central Asia, Russia and then Europe. This route with the cooperation of India, Russia and Central Asia can be further made operational for trade and commerce purposes. The positive signal in this context is the emerging relations between India and Pakistan. India and Pakistan cooperation can open the Silk Route in Kashmir currently blocked due to rivalries. The route can be linked to Afghanistan, further towards Central Asia and southern parts of Russia. It indeed holds a great promise for possible emergence of a free trade area in the whole Eurasian region.
India and Russia can also cooperate with the countries in Central Asia to tackle the menace of terrorism. Russia in its south, India in its north, and parts of Central Asia have witnessed growth and spread of networks of terrorism and religious fundamentalism. Radical forces like Islamic Movement of Uzbekistan or Islamic Renaissance Party of Tajikistan could take roots in the post-Soviet scene due to uncertainties and volatilities in the region. The collusion of these forces with Taliban and Al Qaeda can be effectively met by the cooperation between these three power centres. Already mechanisms are there such as India-Russia joint working groups on Afghanistan and on terrorism, the Collective Security Treaty Organization (which recently concluded its exercises in the region) to fight the menace. These mechanisms need to be further strengthened. The regional cooperation among India, Russia and Central Asia countries to maintain peace and stability in the region needs to be further strengthened. While Russia can use its old links with the region, India can use its economic leverage particularly in Afghanistan, while the Central Asian countries can use their cultural and historical influences in Afghanistan to bring it into the orbit of peace and development. Ansari rightly argued, "No discussion on Central Asia and its immediate neighbourhood would be complete without taking on board the challenges arising out of the situation in Afghanistan … The entire region will benefit, if realistic alternatives are thought and Afghanistan is drawn into a cooperative regional economic and security framework so that nation building there can proceed based on economic development, social harmony, rule of law and participatory democracy in consonance with the wishes of the Afghan people." Regional forums like Shanghai Cooperation Organization (SCO) and Conference on Interaction and Confidence Building Measures in Asia (CICA) can also be used by India and Russia to realize these objectives.
As the Chief Minister of Indian state of Punjab, Prakash Singh Badal stated in Chandigarh last week, there are still many bottlenecks in India-Central Asia equation which needs to be overcome. Particularly he emphasised on a liberal visa regime to promote economic cooperation and partnership in the region. He pointed out that northern Indian city of Amritsar can play a central role in boosting trade with Central Asia. Already there are direct flights from Amritsar to some of the cities of Central Asia. Badal further suggested opening abundant Central Asian agricultural lands for the farmers of Punjab to cultivate those fields and contribute to the economic growth of Central Asia as well as India. Besides the Silk Route connection and agriculture, there are many other areas of trade such as oil, gas, gold, cotton and rare-earths for cooperation. There are already some crucial deliberations between Indian and Russian officials to jointly explore energy in Central Asian countries.
India and Russia have many commonalities in approaches in the emerging world order, which in their ambit also include a peaceful and stable Central Asia with a vibrant economy. India-Central Asia partnership can play a positive role to fulfill these objectives while simultaneously promoting their own interests.
The writer is an Indian commentator. His areas of interests include India-Russia relations, conflict and peace, and strategic aspects of Eurasian politics.
All rights reserved by Rossiyskaya Gazeta.