Could TNK-BP deal be Win-Win-Win?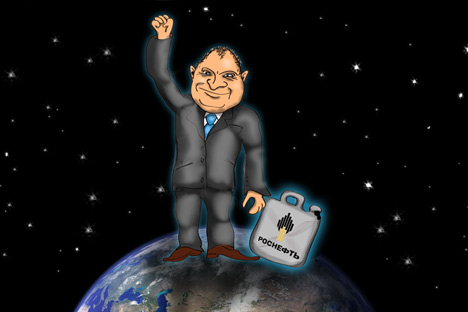 The sale of TNK-BP to Rosneft by British oil major BP and a quartet of Russian billionaires, announced by Rosneft CEO Igor Sechin at a meeting with President Vladimir Putin on Monday, looks at first glance to be a rare case of win-win-win.
While foreign investors have had mixed success with business deals in Russia before – not least BP in its lucrative but often-troubled partnership with TNK – this time, the omens are good.
The British oil major will get what it has always needed – real partnership with the Kremlin – as it seeks to finally turn the corner after the 2009 Gulf of Mexico spill threatened to sink it for good. BP will align its interests with Rosneft's, becoming the Kremlin's favored partner in new exploration projects.
Russia's growing energy behemoth, under the watchful eye of Sechin, Putin's close ally, will gain, through the acquisition of TNK-BP's entire production, a combined output of more than 4 million barrels per day, and de facto dominance over the country's oil sector. A bigger Rosneft will be able to set its sights toward global horizons, with BP – a financially astute and technologically advanced partner – locked in through its share holding and its desire to gain access to the "Holy Grail" of Arctic reserves.
Even the Russian billionaires selling out to Rosneft can justifiably be pleased with the upcoming deal. By selling at the same time as BP, they seem assured of a profitable, tidy exit. Avoiding the need to be Rosneft's junior partners for an extended period will also appeal, no doubt.
Devil in the Details
Of course, even though Rosneft's complex cash-plus-shares deals appear to have cleared their final negotiating stages, signaled by Sechin's meeting with Putin, the devil could still remain in the details.
Under the first part of BP's two-stage deal, it will get $17.1 billion in cash and 12.8% of Rosneft in treasury shares. In Part 2, BP will pay $4.8 billion to buy another 5.7 percent stake in Rosneft. Meanwhile, AAR, the Russian consortium controlled by Mikhail Fridman and German Khan of Alfa Group, Len Blavatnik of Access Industries, and Viktor Vekselberg of Renova, will receive a "cash consideration" of $28 billion.
First, Rosneft will have to secure loans from Western banks to finance BP's cash part of the deal. But with Rosneft's Kremlin connections, that would seem to be a foregone conclusion; it would presumably come with the equivalent of a sovereign guarantee.
The second part of the deal, to pay the AAR billionaires, may be trickier – and lengthier. Fridman and Co. will presumably want to get their hands on the cash before too long – while Russia's economy is still relatively buoyant compared to its European counterparts, and before the Kremlin changes its mind about the sum of the cash payout.
But ultimately, the deal's biggest winner should be Rosneft. With unrivalled access to the country's reserves, the company will finally become what Russia has long sought: a real national energy champion, with a reach that extends to all the corners of the world. The BP-Rosneft tie-up could herald a spate of mergers and acquisitions, not just in Russia's oil and gas sector, but even internationally (BP's acquisition of U.S. major Amoco in the late 1990s spurred a frenzy of industry consolidation among its competitors).
The deal is also another reminder, lest we needed one, of how easy Wall Street bankers and Big Oil find it to turn the page on past misadventures. No one seemed to give much of a thought to Yukos's abortive 2003 sale of a stake to a U.S. oil major as Monday's deal went down, after all.
Tim Wall is Global Business Editor for RIR.
All rights reserved by Rossiyskaya Gazeta.