The Eurasia Center & The Eurasian Business Coalition
The Russian Federation Chamber of Commerce and Industry in the USA in cooperation with Russian-American Trade & Investment Consulting, LLC
Invite you and your colleagues to the:

5th Annual Conference:
DOING BUSINESS WITH RUSSIA
Washington, DC
MONDAY, November 19th
9:00 a.m. - 5 p.m. (Evening Reception)

THE RUSSIAN TRADE REPRESENTATION
2001 Connecticut Avenue, NW Washington, DC 20009
&
THE RUSSIAN CULTURAL CENTRE
1825 Phelps Place, NW Washington, DC 20008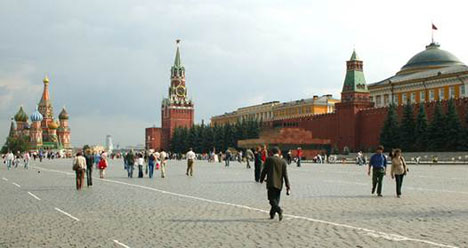 Source: Press Photo
Given the high importance of developing deeper and more sophisticated business relations between Russia and the United States, there are a lot of new business opportunities to explore between both nations, especially with Russia's new accession to the World Trade Organization (WTO).
As former obstacles to trade are being removed, both nations are poised to develop new opportunities for trade and commerce, as both Presidents Obama and Putin have placed this high on their Presidential agendas.
Panels will address vital topics of business, trade, energy, finance and investments. There will be new opportunities from the privatization of Russia's state-owned companies and other enterprises. The Conference includes presentations on energy and natural resources, high technology, mergers and acquisitions, economic development and public support for investments. Russia is now offering special economic zones for investment.
This year's panels include:
Russian Accession to the WTO – How will America Benefit from it?
Investment Opportunities in Russia's Special Economic Zones
Russia's New Initiatives for Scientific Innovation – Skolkovo What about other "technological valleys" like proposed by Moscow Physical & Technological Institute (MFTI)?
Analysis Of Trade Development with Russia – Sector-by-Sector (IT, Automotive, Pharmaceuticals, Agriculture, Nuclear Energy)
Legal and Financial Developments, Mergers and Acquisitions
Bilateral & Multilateral Support for Business In Russia
Will the Energy Sector Rebound in Russia? New Exploration Initiatives and new Paradigm in view of shale gas development in the USA
New Market and Investment Opportunities in Russia's Regions
This event will allow participants to interact with those in Russia and Eurasia seeking to expand two-way trade, direct investments, business opportunities and open communication. Participants at the conference will be able to speak with members of Russian Trade Mission and experts who have years of experience in doing business in Russia. There will be important Russian officials along with executives from numerous US corporations and representatives of US Government agencies including the Departments of State and Commerce.
The Conference will address Russia's new accession to the World Trade Organization and the post-WTO opportunities for companies within Russia. Russia has just finished chairing the APEC meeting in Vladivostok and has now set up the new 10 billion dollar Russian Direct Investment Fund to support foreign direct investment to Russia.
Special Discount - Early Bird Registration for the DOING BUSINESS WITH RUSSIA Conference if you register by October 26th!
TO REGISTER FOR DOING BUSINESS WITH RUSSIA JUST 'CLICK':
DOING BUSINESS WITH RUSSIA REGISTRATION FORM:
Also Featuring the
"STAR OF EXCELLENCE AWARD"
Ambassador Thomas Pickering, former Ambassador to Russia, accepts Star of Excellence Award on behalf of The Boeing Company at the 4th Annual Doing Business in Russia Conference in December 2011
*********************************************************
SPONSORSHIP INFORMATION
The Doing Business with RUSSIA conference is a unique marketing opportunity for your company to support US-Russian business relations and to increase your company's exposure within the US-Russian business community. Sponsor this event and your company will reach not only to the conference attendees but also to the hundreds of thousands of people to whom this Conference will be televised to both in the US and in Russia.
TO BECOME A SPONSOR OF DOING BUSINESS WITH RUSSIA 'CLICK':
DOING BUSINESS WITH RUSSIA SPONSORSHIP FORM & BENEFITS:
PREVIOUS SPONSORS of our Events: 3M Corporation; Baltika; The Boeing Company; Chadbourne & Parke; Citigroup; The Coca-Cola Company; ConocoPhillips; Dechert LLP; DuPont; The Ford Motor Company; General Electric; Goodyear; The Intel Corporation; Lockheed-Martin; LUKOIL Oil Company; Research International; United Technologies; Xenios.
*************************************************************
New from our Media Sponsor: Russia Beyond The Headlines...in the New York Times and Washington Post
RBTH's updated FREE iPad app provides more business news and video
Sep. 12, 2012, Moscow, Russia – Russia Beyond the Headlines (RBTH), an internationally recognized source of news about Russia, launched a second edition of its free application for iPad. The app is featured in the Newsstand and provides an enriched multimedia experience. The first edition of RBTH's app was introduced last November and given a five-star rating on iTunes.
You can download the new RBTH iPad app from iTunes here.
*********************************************************
The Eurasia Center & The Eurasian Business Coalition
4927 Massachusetts Avenue,
NW, Washington, D.C. 20016
Tel: (202) 494-0773 Telefax: (202) 237-1452
For questions and further information: Contact Michael Cooper
Email: Director@eurasiacenter.org
Web: www.eurasiacenter.org
All rights reserved by Rossiyskaya Gazeta.