The 69th Venice Film Festival, held in September 2012, witnessed the premiere of Lyubov Arkus's "Anton's Right Here." It received a lengthy ovation from audiences and critics alike. A month later, this movie about an autistic Russian boy from a dysfunctional family appeared in movie theaters across Russia. Now, the director patiently explains to her fellow countrymen why "Anton is closer to them than to anyone else."
Russia is home to many autistic children like Anton; although there is no reliable data, the estimate is around 200,000. There are charities and non-profit organizations that provide assistance to autistic children. And the topic is becoming more widely discussed.
The idea for the movie "Anton's Right Here" was formed a few years ago, when director Lyubov Arkus, already a renowned movie critic and editor of Seance magazine (one of the most important magazines about cinema in Russia) came across an unusual essay written by a child:
"People can be kind, happy, sad, nice, good, grateful, big, small... People go home. People go shopping. People play the piano. People play the grand piano. People play the harmonica. People go to Plekhanov. People suffer. They carry water by themselves or in trucks. People are inside ships, planes, buses, trains, trams, cars, helicopters, cranes, combine harvesters. People live in houses, in rooms, in kitchens, in apartments, in containers, in hallways, in bathrooms, in the shower, in the bath... People rush. People swear. Now happy. Now serious. People bang and rattle. They're not shaggy. They get lost. Ginger. Deep. They skin things. People renovate houses and barns. People will endure a bit more. People draw and write. They work in the forest. Chop, saw, and burn wood. People still say hello to each other, talk, jump, run. People are final. People fly."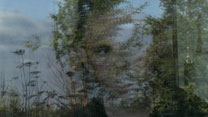 "Anton's Right Here" is an entirely new and innovative kind of cinematography. Source: Press Photo.
The text spread around the Internet and was ultimately turned into a libretto for Sergey Nevsky's "Autland" – an opera for six soloists, a chamber choir, and electronics, based on texts written by people with autism. The simple and, at first glance, superficial set of words struck Lyubov Arkus with its inclusiveness. She set out to find the boy who wrote these lines. And, in the end, Lyubov found Anton. Or Anton found Lyubov (lyubov in Russian means "love.") The author of the text was Anton Kharitonov, a 10-year-old boy diagnosed with autism. Abandoned by his father, he grew up in a shabby apartment on the outskirts of St. Petersburg, with his mother trying to raise him on a measly salary and disability allowance of 8,000 rubles (about $260) per month.
"What you see is a clinical picture of autism. Anton's autism is very deep, time has been squandered. No one ever told him that he had autism. He was diagnosed with mental deficiency, schizophrenia, and much more – but never with autism," said Arkus. Indeed, in Russia, "autism" does not formally exist as a diagnosis. Therefore, autistic people often spend their lives in psychiatric hospitals, even though the condition is treatable. If autism is identified early, people can adapt and apply themselves in the real world.
"I never saw such a fragile, spiritual mindset as Anton's," the film's creators said in unison. This feeling translated strongly into their work. The movie does not evoke pity or condescending sympathy, and it does not overplay the emotional side, as films about people with disabilities so often tend to do.
The film asks a question: "Is it possible to compare and contrast people according to their limits?" And the answer: "No."
After all, "All people go home. All people go shopping. Worry. Smoke. Cry, laugh. All people suffer. And Anton suffers. Suffers when ignored. Suffers when sent to a psycho-neurological boarding house. Suffers when kicked out. In the space of four years, he endures a great many things."
In all this time, Anton is not only followed by the cameras of director Lyubov Arkus and operator Alisher Khamidkhodzhaev – he is transformed by them. At one point, Anton starts to enjoy the role. During filming, he feels, perhaps for the first time in his life, the interest and respect of others.
He is filmed by the operator, by a volunteer, and, most importantly, by himself. At first, viewers observe Anton from the outside; but later, they see everything through his eyes. Anton points the camera at the sky and says: "I'm flying! Flying!" This non-feature film quite accidentally begins with a quotation from a classic piece of cinema. Recall the opening scene of Andrei Tarkovsky's "Andrei Rublev," where the monk takes off in a home-made balloon, muttering to himself, "I'm flying, flying." Suddenly, the rapture of perceiving the world awakes inside Anton, too.
There are three main characters in the movie: Anton, Lyubov, and the camera. Through Anton's story, Lyubov herself is also revealed – not just as a storyteller, but as a character. And, through Lyubov's camera, Anton is revealed. The dream of Soviet director Dziga Vertov – that the camera will change the world, and with it human relations, and that the hero himself will take the camera and become a co-author – comes true.
"Anton's Right Here" has a parable-like, philosophical subtext, which prevents it from being labeled as a pure documentary. There is no dry listing of facts, which is characteristic of non-fiction documentaries; yet, there is also none of the poeticizing that is found in feature films. The picture gets to the root of reality, alters it, and records the result. "Anton's Right Here" is an entirely new and innovative kind of cinematography.
The film will be shown at Russian Film Festival in London.
All rights reserved by Rossiyskaya Gazeta.