Russian language and culture festival held in prestigious Delhi school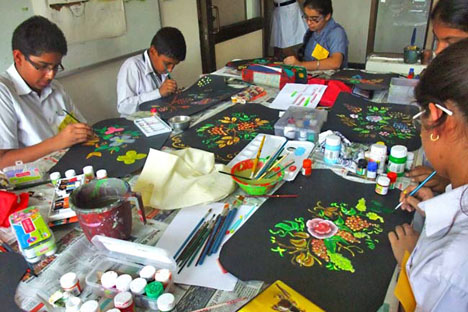 Delhi Public School Dwarka hosts a cultural festival with art workshops. Source: Russian Embassy in New Delhi
Delhi Public School Dwarka hosts a cultural festival with art workshops, a quiz, poetry readings and a Russian music concert.
Russian language students from five secondary schools of New Delhi took part in Beryoza, an annual festival, held in the Delhi Public School (Dwarka) in the middle of October Beryoza, which means birch in Russian, was organised by the Delhi Public Schools Society (DPSS) and Rossotrudnichestvo, an autonomous Russian government agency, which promotes Russian culture and interests overseas.
As part of the festivities, Ekaterina Pokrovskaya, who heads the Art School of the Russian Centre of Science and Culture in New Delhi (RCSC), conducted a workshop on Zhostovo painting, an old Russian folk handicraft of painting on metal trays. The programme also included a competition for the best national costume, a quiz on the Russian language, Russian poetry reading, singing Russian songs and dancing folk dances. After the concert, which was organised by DPS Dwarka along with the School of the Russian Embassy in India, a documentary film about Russia was screened.
At the closing ceremony, Senior Counsellor of the Embassy of the Russian Federation in India, Sergey Karmalito, thanked the school administration and teachers for the promotion of mutual understanding and friendship between Russian and Indian people. He also congratulated the participants on the progress in the study of Russian language and culture. The Chairman of DPSS, Ashok Chandra, said that the Beryoza Festival of Russian Language and Culture is the most important linguistic event for their schools. He lauded the importance of teaching Russian in DPS schools. The group was planning on increasing the number of schools that would teach Russian with each new academic year.
Fedor Rozovsky, Head of Representation of Rossotrudnichestvo in India, spoke of the joint projects of DPSS, the RCSC in New Delhi and Moscow State University on popularising the Russian language in India. He also handed diplomas for contribution to the promotion of Russian language and the strengthening of Russian-Indian Friendship to the chairman of DPSS Ashok Chandra, its director Renu Mital, and the director of DPS Dwarka Sunita Tanvar. Teachers and students at the festival were also presented with Russian souvenirs.
All rights reserved by Rossiyskaya Gazeta.