India's Ayni military base in Tajikistan is Russia-locked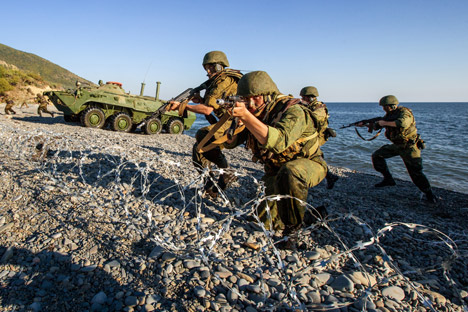 India is very serious on the Ayni air base project to gain a strategic foothold in Central Asia. Source: ITAR-TASS
Moscow has been unrelenting in its stand that it doesn't want foreign powers to deploy fighter aircraft in its backyard and a former territory.
Ayni is the much-spoken word in Indo-Russian strategic engagement. The Ayni air base in Tajikistan happens to be India's first and only foreign military base. And yet, this base is not fully operational for the simple reason that an air base cannot be operational without deployment of fighter aircraft, something that is unlikely to happen without Russia's green signal. India's Ayni dream is Russia-locked.
The issue will inevitably figure during the highest Indo-Russian engagement when Russian President Vladimir Putin holds talks with Indian Prime Minister Manmohan Singh. It is another matter that the issue is unlikely to find a mention in the publicised talking points between the two sides, like it has seldom been.
Ayni is going to be among the high points of discussions between India and Russia at their 13th annual summit in New Delhi in December. India has spent $70 million between 2002 and 2010 to renovate the Ayni base. India has extended the Ayni runway to 3,200 metres and installed state-of-the-art navigational and air defence equipment there. And yet, India has not been able to make Ayni truly a military base that fits to the classic definition of an air base.
All these years the Indians have run into the Russian wall as Moscow has been unrelenting in its stand that it doesn't want foreign powers to deploy fighter aircraft in its backyard and a former territory. The Russians have thus far steadfastly refused to grant this favour to its age-old strategic partner – India.
Importance of Ayni
Ayni Air Force Base, also known as Gissar Air Base, is a military air base in Tajikistan, just 10 km west of the capital Dushanbe, which served as a major military base of the Soviet Union in the Cold War era. India waded in the Tajikistan strategic matrix after the disintegration of the Soviet Union in 1991, though it took India a good one decade to do so.
But that happened when Russia was weak – militarily, politically and economically. This scenario is no longer applicable with the now resurgent Russia.
India is very serious on the Ayni air base project to gain a strategic foothold in Central Asia and improve its C3I (Command, Control, Communications and Intelligence) network to fortify its operations in Afghanistan and keep a close eye on Pakistan. Ayni is located just 10 km west of the Tajik capital Dushanbe and had served as a major military base of the Soviet Union during the Cold War.
The Russian "Net" has prevailed that was reflected in an on-record statement by Tajik foreign minister Hamrohan Zarifi in January 2011 who ruled out deployment of Indian or American forces at Ayni. Zarifi's statement coincided with Tajikistan officially launching negotiations with Russia to discuss possible deployment of Russian military at Ayni.
India's military presence in Tajikistan, be it in Ayni or in Farkhor, would give India the much-needed depth and range in tackling Pakistan's threats to its interest in Afghanistan. It would also prove to be a geo-strategic game-changer and give a larger role in South Asia, the implications of which would inevitably go far beyond the Indo-Pakistan sub-text.
The importance of Tajikistan for India cannot be overstated. Tajikistan's importance in the new great game that is likely to unfold in Central and South Asia after the withdrawal of the US led NATO troops from Afghanistan in 2014 is well known to the strategic establishments of the region. New equations will inevitably emerge after the drawdown of the American forces in Afghanistan. The regional powers will be playing this game to establish a foothold in Afghanistan either in association with the Karzai regime or with the Taliban. The neighbouring countries of Afghanistan, like Tajikistan, will be playing a pivotal role in the regional geopolitics.
Rahmon's India Visit
It is in this context that the September 3-4, 2012 India visit by Tajik president Rahmon should be viewed. During this visit, Rahmon, equally concerned with the possible shape of things to emerge in the post 2014 Afghanistan, discussed with his Indian interlocutors the various possibilities of jointly fighting the Taliban menace. Tajikistan looks upon Taliban as a threat to its own interests as well as its secular fabric.
Russia, Iran and India had collaborated significantly before the 9/11 attacks on the US soil. At that point India was running a military hospital on the Tajik territory close to the Afghan border to serve the injured Northern Alliance militia. In today's circumstances, however, it is doubtful if the similar trilateral synergy is still there. Quite evidently, it is not. Iran is the X factor in this context. A ray of hope for India is that since the Iranians are now keen not only to allow India to work on the Chahbahar port but also make investments in the Chabahar project may well indicate that Iran may extend a helping hand to India in Tajikistan as well.
Rahmon's India visit acquires an added significance as the Indians have become more ambitious and are no longer content with the role of merely running a hospital inside the Tajik area bordering Afghanistan. Instead, India is now envisaging a bigger security role for itself in Tajikistan. It is not without significance that during Rahmon's recent India visit, India and Tajikistan discussed strategies to tackle the post 2014 security challenges and reaffirmed that the issue of restoring peace and stability in Afghanistan was inseparably linked with regional security.
The Big Picture
But the big picture is that the Ayni air base in Tajikistan holds the key to the long-term Indian strategic interests. In 2006, India was poised to announce that the Ayni base had become operational, but it was not to be. The base is still dormant without any fighter jets.
If India wants to have a strategic presence in Tajikistan, which is just 16 kilometres from Pakistan-Occupied Kashmir, it will have to have Russia on board. There is nothing to suggest on the ground that India's Tajikistan riddle is going to be solved anytime soon, possibly not even during Putin's India visit.
The writer is a New Delhi-based journalist-author and strategic analyst.

All rights reserved by Rossiyskaya Gazeta.