Health problems behind Putin's postponement of India trip - Report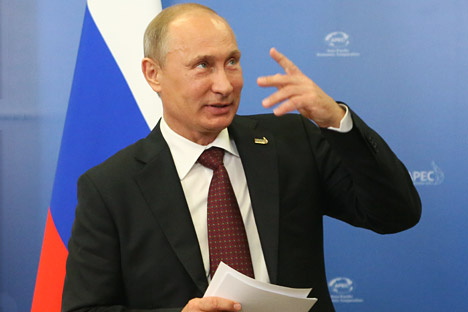 The news about Putin's back troubles 'did not correspond to reality.' Source: Getty Images/Fotobank
News agency cites sources close to the Russian President as saying that chronic back problems led to postponement of visit.
Russian President Vladimir Putin's postponement of his trip to India from early November to the end of November may have been caused by back problems, Reuters said, citing 3 government sources. One of the sources told the news agency that the Russian President would require surgery in the near future.
Putin's spokesman Dmitry Peskov told Reuters that the news about Putin's back troubles "did not correspond to reality."
This development throws doubt on the speculation that Putin postponed his trip to India as he was unhappy over Sistema's problems in the country or the fact that India decided to include Kudankulam's 3rd and 4th reactors under a liability law.
"The chief is not well," one source, who spoke on condition of anonymity, told the news agency. Another said Putin had been seen recently wearing a back brace. "No one has announced this formally, but everyone knows that foreign visits are being cancelled because of his illness," the agency quoted as another source as saying.
Putin also postponed a visit to Turkey, for which a new date has not yet been announced. Media reports said Putin was caught by TV cameras complaining to Foreign Minister Sergei Lavrov that he was on restricted diet, at the APEC summit in Vladivostok in September. Putin, who turned 60 this month, has brandished a strong-man image.
A source privy to the meetings of the India-Russia Inter-governmental Commission on Trade, Economic, Scientific, Technological and Cultural Cooperation in Delhi told RIR that media reports about Putin not being happy with Dmitry Rogozin's visit to India were inaccurate. "Rogozin didn't go to Delhi with a magic wand," the source said. "No one expected him to solve the Kundankulam issue...in fact India's agreement to pay more for the 3rd and 4th reactors doused the fire on the liability law," the source said.
Another source close to Kremlin insiders told RIR that New Delhi was in the know of the Russian President's health problems but made sure that such information was not leaked to the Indian media. "The official line told by Moscow and Delhi was that the delay was caused by a domestic problem and the sides agreed to stick to this, despite a potential media barrage of speculation," the source said, adding that diplomatic relations remained strong between the two countries.
All rights reserved by Rossiyskaya Gazeta.