Russian Kitchen: Siberian Borsch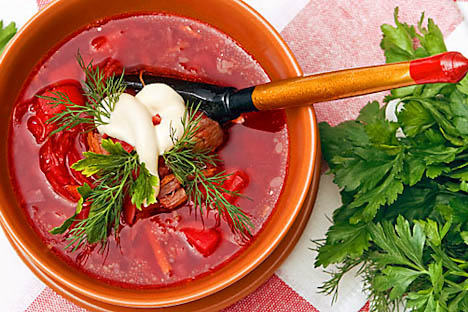 Many people in Russia think that Borsch is their traditional dish. Source: Lori/Legion Media
Each region and each family has its own unique recipe for the famous Russian beetroot soup. Here is a simplified Siberian recipe that is easier to make.
When you ask anybody what is the most famous Russian soup, 9 out of 10 people will answer Borsch. Many people in Russia think that Borsch is their traditional dish. According to some historical sources, Borsch has originated in Ukraine more than 300 years ago. It was a dish for poorer people, which is usually made in spring when there are not many fresh vegetables available. The main ingredient is beetroot that was extremely cheap and available throughout the year. The traditional recipe for this soup included pickled cabbage, potato, meat stock and pork fat. It became an essential dish of Eastern Europe including Russia, Ukraine, Poland, etc. Now you can get this soup in the restaurants in any part of the globe from Rio to Goa.
Borsch is very distinctive from any other soup in any other cuisine due to its main ingredient Beetroot. If technique of making borsch retained, you will get the fiery red colour. It can be served either hot or cold.
The traditional way to eat it is by adding sour cream right before serving and with garlic bread. I would like to share with you the way garlic bread is made. You toast the bread and take a fresh clove of garlic; with addition of salt you rub the garlic on the hard surface of the bread. Borsch with this garlic bread tastes outstanding.
There are many recipes of Borsch. I will present you the recipe that we use at home (Siberia). It is simplified from the original for our convenience.
By the way, this soup tastes better the next day.
Ingredients (serves 4):
1 litre non-vegetarian/vegetarian stock
2 medium potatoes
¼ medium cabbage, diced
1 large beetroot, grated
1 large carrot, grated
1 large onion, chopped
2 large tomatoes, chopped
4 garlic cloves chopped
1 tsp dill
1 tsp vinegar
¼ tsp sugar
250 g cooked meat (optional)
Curd (substitute to sour cream)
Ground black pepper
Salt
Preparation:
Tip:
In order to get bright red colour, do not overcook beetroot.
1. Heat the stock in the pot and allow it to simmer.
2. Chop the potatoes into cubes and add into stock.
3. Chop the cabbage into medium size squares and add into the pot immediately after potatoes.
4. Fry the chopped onions in the pan, add grated carrot, beetroot and chopped tomatoes and sauté on a slow flame till they wilt and become soft. Then add the chopped garlic, sugar and vinegar and turn off the fire.
5. After the potato and cabbage are fully cooked in the pot, add in the sautéed vegetables (and cooked meat if desired).
6. Season with fresh dill, black pepper and salt. Let it stand for some time, serve hot with curd (1 table spoon per plate) and garlic bread.
Priyatnogo appetita!
All rights reserved by Rossiyskaya Gazeta.