Putin's postponement of the Indo-Russian annual summit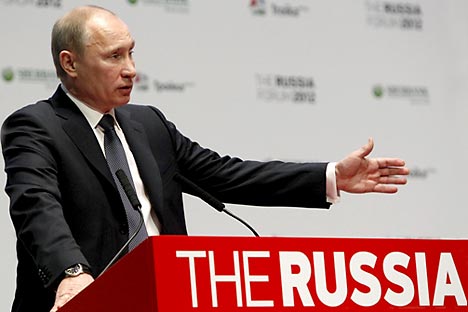 The cancellation/postponement of the Russian President's visit to India came as somewhat of a surprise. Source: Reuters / Vostock Photo
Some experts and journalists have over-dramatised the political and economic differences of opinion between Russia and India.
The cancellation/postponement of the Russian President's visit to India came as somewhat of a surprise. Various reasons have been suggested for the trip's deferment, including health reasons. But the fact is that India joins Pakistan and Turkey in an unlikely coalition of countries that have been snubbed by the Russian President in recent weeks. However, we will never know about that aspect of official visits as the ability to keep such secrets has been an important attribute of statehood since time immemorial.
Official visits have long become an indispensable part of inter-state relations. However, every self-respecting leader who seeks the support of his voters and his people is very careful to make sure that state visits are invested with economic and political content leading to treaties, agreements, memoranda of strategic intent and so on. We have become used to this practice in our relations with India, which is why any departure from ritual may raise questions about the substance of our relations with the country, relations that date back to the times of Jawaharlal Nehru.
Incidentally, the geopolitical alliance that had been forged by the Soviet and Indian leaders was progressively bolstered by treaties and agreements and not just by the good personal chemistry between the leaders of the two countries. In fact, the resumption of bilateral relations between Russia and India in the "strategic partnership" format during the President's visit to Delhi in early October 2000 was a continuation of such a substantive strategic line.
The Russian President's aborted, or rather, postponed visit to India has probably angered our Indian partners. To this one can reply that the agreement on annual Russian-Indian summit meetings has not been broken, and the visit will take place before this year is out. However, the postponement of the visit may prompt talk in Delhi about the stability of the "eastern element" of Russia's foreign policy in general, and relations with India in particular. The conceptual reorientation of Russia's foreign policy towards the East has been questioned by one of India's top analysts, M. K. Bhadrakumar. I would like to take issue with this approach.
First, it is risky to make such forecasts proceeding from the opinions of Russian politicians and political scientists who have their own agendas and who nurture a secret hope that the West will recognise Russia's long-term interests and geopolitical identity "of its own accord." There are objective world political processes which attest to the progressive weakening of the US-led West; something the Russian authorities have to take into account in their activities.
Second, it is true that many Russian experts question the stability of the "Eastern Vector" of Russia's foreign policy. However, if Russia is to achieve its main national aim of preserving its unity and territorial integrity, it has no option but to boost the development of Siberia and the Far East. This much is obvious.
Third, the break-up of the unipolar world under the aegis of the United States was not automatically followed, as had been expected, by the establishment of a polycentric world. That process, I think, may take decades. Therefore, in the foreseeable future, the key feature of world political organisation is likely to be a "loose geometry" of international relations. In other words, it will be based on flexible associations of states on a non-ideological basis of shared current interests. As regards India and Russia, by adhering to the ideas of a polycentric world they are upholding their (not always identical) state interests in their bilateral relations. This tempts some experts and journalists, carried away by their imaginations, to over-dramatise the differences between Russia and India, differences that are natural for all times and all nations.
The differences have to do mainly with Russo-Indian economic relations, which should be the subject of negotiations conducted with great patience, restraint and tact. Neither Moscow nor Delhi is in the habit of signing "raw" documents. We should therefore stock up on patience and hope that the Russian President's long-awaited visit to India will take place this year and will lead to the signing of well-considered documents, treaties and agreements that open up opportunities for an upward trend in our bilateral relations.
Finally, any discourse on diplomatic themes, if it is to be professionally well-grounded, must include an analysis of the internal political context of the partner country's behaviour in the world. India is going through a serious restructuring of its federal government with an eye to the general election in 2014. In this situation, the Russian President's visit in early November could inadvertently have interfered in domestic political processes in India, which is indelicate and counter-productive.
And in general, is there cause for concern? The schedule of Russo-Indian summits has not been broken.
I would like to note one more circumstance of a conceptual character that is germane to the future of Russo-Indian relations. At the beginning of the third millennium, the world is governed by relentless laws of practicality. One of these laws establishes a direct link between the geopolitical influence of states and the scientific and technical character of their economies, the economy's ability to tackle promptly and effectively the most complicated tasks. This ability determines the position of a given country, including Russia, in the world system. We must constantly keep this law in mind and tailor our actions to the dynamic of the fast-changing world. Then we will have no need to fear aborted visits or the "boundless freedom" enjoyed by Russian and Indian media.
All rights reserved by Rossiyskaya Gazeta.