Syria needs an overhaul: Lavrov, Brahimi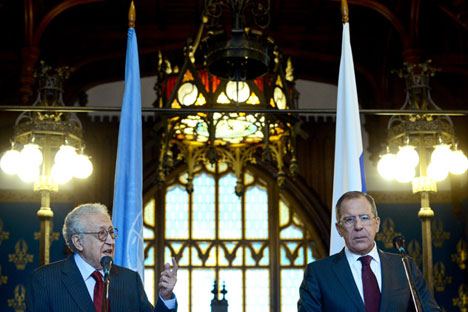 Russian Foreign Minister Sergey Lavrov, right, and envoy Lakhdar Brahimi face reporters after talks Monday in Moscow. Source: AFP/ East News
The Russian Foreign Minister said the family of nations must continue its efforts to find a peaceful solution for Syria.
Russian Foreign Minister Sergei Lavrov and international Syria envoy Lakhdar Brahimi believe the strife-torn nation needs a complete overhaul. They came to this conclusion at a meeting in Moscow on Monday, where they discussed what to do next after the apparent collapse of the Eid al-Adha ceasefire in Syria.
The Russian Minister said the family of nations must continue its efforts to find a peaceful solution for Syria: "Russia is determined to help the United Nations and the Arab League implement the decisions of last June's Geneva conference on Syria and bring about a political dialogue between the Syrian sides. The Geneva resolutions were backed by all outside powers wielding influence on the Syrians and must be acted upon. Accordingly, the Syrian Government and the opposition must be persuaded to cease hostilities and start talks aimed at forming a transitional government for their country."
The Russian Foreign Minister added: "Implementing a workable ceasefire supposes the presence of international observers on Syrian soil. Sending them is a matter for the UN Security Council. The next Syrian mission must be considerably stronger than the last one that had to be rolled up in August."
Lavrov urged the Security Council to get down to considering concrete plans for its next Syria mission. He also pointed out that Russia is the only outside power that continues to maintain contact with both the Syrian opposition and the Syrian Government. This makes it the best possible mediator in the Syrian conflict.
Lakhdar Brahimi said the Syrian people deserve the strongest possible international support of their efforts to restore normality to their long-suffering country, and this support must come in the form of a meaningful engagement involving all outside powers that have interests or contacts in Syria and all the sides in the Syrian conflict He said the Syrian violence must come to an end and give way to a new peaceful Syria. Syria and its neighbours, Brahimi argued, are in need of profound change which amounts to a complete overhaul.
Brahimi (78), a former Algerian Foreign Minister and seasoned diplomat has travelled across the Middle East over the past few weeks to promote his plan to use a ceasefire to kickstart a political process. His main difficulties is that only some of the rebel groups are on board and there are so many different rebel groups in Syria that it may almost not be possible for him to win unanimous agreement from them to join the political process towards a lasting solution to the conflict.
First published in the Voice of Russia.
All rights reserved by Rossiyskaya Gazeta.