Putin cancels traditional Q&A TV session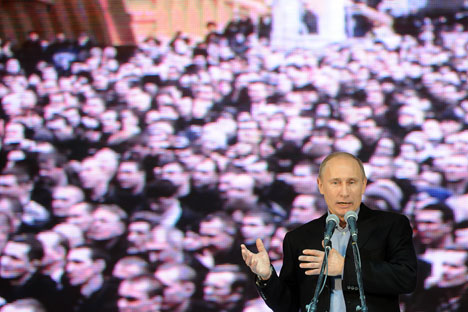 Putin cancels traditional Q&A TV session. Source: ITAR-TASS
The live face-to-face with the people was swapped for a meeting with journalists just once over the past decade.
President Vladimir Putin plans to break his own tradition of speaking with the people in a marathon Q&A session aired live on federal television, presidential spokesman Dmitry Peskov confirmed on Wednesday.
Peskov said that his boss was keen to speak to the nation after returning to the presidency for the third time, although "a new form" needed to be used, Kommersant reported.
It is possible that this year, Putin will meet journalists at a special press conference instead of answering selected questions from common Russian citizens, according to the daily.
Long-standing tradition
The live face-to-face with the people was swapped for a meeting with journalists just once over the past decade, in 2004, in the first months of his second presidential term.
Except for on that one occasion, Russia's long-term leader has appeared on the country's screens every year since 2001, regularly setting new records for the programme's duration.
Last year's session lasted four-and-a-half hours and gathered 40 percent of Russia's total TV audience, according to Kommersant.
The only visible change the program has seen was a title change – from "Pryamaya Liniya s Vladimirom Putinym" (Direct Line With Vladimir Putin) to "Razgovor s Vladimirom Putinym" (Conversation With Vladimir Putin), marking the start of Putin's tenure as a prime minister.
Speculation surfaces
As soon as the news about the live Q&A session's cancellation emerged in the media on Wednesday, analysts started speculating about the possible reasons for the decision.
Yevgeny Michenko, director at the International Institute for Political Research, suggested that this year's address to the Federation Council might play the same role. Mikhail Vinogradov, president at the St. Petersburg Politics foundation, said the cancellation could be due to the yet unclear stance that the new head of state will take on his predecessor's statements. Last year, then-president Dmitry Medvedev called for political reforms, which were later reviewed.
Peskov, however, weighed in on the speculations, saying the live interaction with the president hadn't been cancelled, but postponed.
"Given the climate conditions, we will change the schedule so that the live broadcast will be carried out during a warm season and not when ears and feet are freezing off," he told Interfax.
Earlier this week, Reuters reported that Putin, who turned 60 in October, reportedly needed to undergo surgery due to problems with his back. Later, Peskov denied the report was true.
First published in the Moscow News.
All rights reserved by Rossiyskaya Gazeta.