Smoking after 2015: Expensive and not in fashion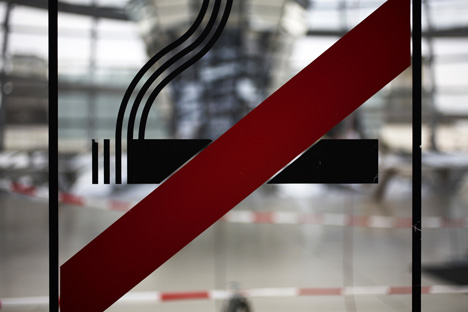 Smoking will be banned in state institutions, in sports and social facilities, in public transport, in common rooms in dwellings, at beaches, in children's parks, and in many other places. Source: Getty Images/Fotobank
The Russian Government has submitted an anti-tobacco bill to the State Duma, calling for a ban on smoking in all public places beginning from 2015.
Russia is known as a paradise for smokers. There are many smokers in the country. The excise-duties on tobacco are liberal and tobacco sale restrictions are insignificant. Low prices on tobacco products add much to making the Russian market of little interest for pirated goods. However, in several years such "charity" may become a thing of the past. Prime Minister Dmitry Medvedev says that this law provides for a gradual introduction of a smoking ban in restaurants, cafes, and other commercial outlets ahead of January 1st, 2015. And this will be done in a civilised way as part of the Convention on Tobacco Control of the World Health Organization (WHO).
There are sufficient grounds for the introduction of tobacco bans in Russia. The number of negative medical, demographic, social, and economic consequences caused by tobacco consumption is growing. Although this is a very strict law, it does not deprive smokers of their rights, a member of the Public Chamber, Yevgeny Achkasov, says.
"Smokers can go to a super-market and buy cigarettes there. They can take a price list and choose what they need," Achkasov, says. "There is a proposal to print on cigarette boxes what smoking may lead to. People must know what they are doing. As you know, Russia occupies one of the leading places in this field. And the result is the degradation of our nation."
Smoking will be banned in state institutions, in sports and social facilities, in public transport, in common rooms in dwellings, at beaches, in children's parks, and in many other places. The public demonstration of tobacco products and the process of smoking will be banned too. In the US, Europe and other parts of the world, big fines are imposed for smoking in public places.
Even the possibility of restricted smoking has made representatives of the tobacco industry to be fearful of losing Russia as one of the most profitable markets. Restricted advertising and a ban on tobacco sale in small shops is an object of concern for them. The General Director of the Tabakprom Association Vadim Zhelnin says that many people may lose their jobs and businesses.
There is one more thing that is very important. According to the World Health Organization, bans on smoking in public places and high prices on the tobacco products are the most effective mechanism to lower tobacco dependence, especially among the youths. By the way, two-thirds of smokers welcome the fight against smoking. The government must also think about measures to put an obstacle on the way of cheap pirated goods, which should be done in due time. Both the government and the society must make maximum efforts to propagate a healthy lifestyle. "Smoking is not in fashion" should become a slogan of today.
First published in the Voice of Russia.
All rights reserved by Rossiyskaya Gazeta.