Bout banned from contacting his family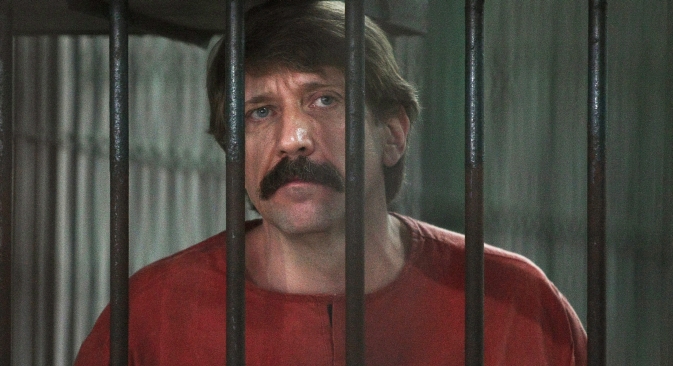 Viktor Bout was arrested in Thailand in 2008 and then extradited to the U.S., where he was convicted by unanimous decision of a Manhattan jury in November 2011 and sentenced to 25 years in prison. Source: ITAR-TASS
American prison management punishes Russian for talking to his mother
Alla Bout, the wife of Viktor Bout, who has been convicted of arms dealing in the U.S., has told Izvestia that the management of the ADX Florence federal prison in the state of Colorado, where her husband is being held, had banned him from calling his relatives for 30 days after he had talked to his mother.
"Viktor couldn't get through to me," she said. "We usually talk on Skype. This time I kept getting cut off, and since my husband only gets 15 minutes on the phone, he called his brother, who put Viktor on speakerphone with his mother," Alla said. "After that, Viktor didn't call for a week. Last night the lawyer called me and said Viktor had been deprived of his phone rights for 30 days because he talked to relatives on speakerphone."
According to Bout's wife, "nothing took place that broke the rules" during this call.
"They didn't discuss politics or the economy. Viktor's mother asked how her beloved son was doing and how he was feeling," said Alla. "Prisoners aren't forbidden to talk to their relatives – I think this was a way of putting psychological pressure on my husband.
"Viktor's lawyer intends to file a complaint against the prison administration," she said. "I've written a letter to the Russian embassy in Washington and asked them to take action to solve this problem, because these calls are the only way for Viktor to keep in touch with his family."
Viktor Bout was arrested in Thailand in 2008 and then extradited to the U.S., having been charged with conspiring to sell arms to members of the Colombian FARC (Revolutionary Armed Forces of Colombia). He was convicted by unanimous decision of a Manhattan jury in November 2011 and sentenced to 25 years in prison.
First published in Russian in the Izvestia newspaper.
All rights reserved by Rossiyskaya Gazeta.