Indian Culture Festival to be held in Moscow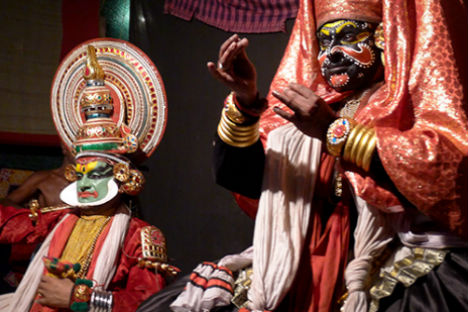 Kutiyattam, is a form of Sanskrit theatre traditionally performed in India. Source: Nasya Demich
Seven-day festival will give Muscovites a glimpse of India's diverse and vibrant culture.
After New Delhi hosted the 'Days of Moscow' and Russian artists performed in Mumbai, Bangalore and Chennai, it's now Moscow's turn to host an Indian cultural festival.
The Indian Embassy's Jawaharlal Nehru Cultural Centre (JNCC), Moscow, in association with the Higher School of Economics, Moscow, is organising the 'Days of Indian Culture' at the Cultural Centre of the Higher School of Economics (HSE) from November 5-11.
The seven-day festival will give residents of the Russian capital a glimpse of India's diverse and vibrant culture. The programme will feature concerts presenting various Indian classical dance styles, photo and art exhibitions, films, cuisine, costumes, and dance, tabla and yoga workshops, among other events.
The 'Days of Indian Culture' will be inaugurated by the Ambassador of India to Russia, Ajai Malhotra, on November 5 with a special exhibition titled, 'Kalpana – Masterpieces of Figurative Indian Contemporary Painting.' The exhibition has been curated by the well-known Indian artist Anjolie Ela Menon and showcases representations of some of most famous and talented Indian artists, such as Jamini Roy, M.F. Hussain and Manjit Bawa. The exhibition has been sourced from the Indian Council for Cultural Relations (ICCR).
On November 10, JNCC would be presenting 'Sanskriti Sagar', an Indian classical dancecomposition. The programme of the festival is multi-faceted and provides an opportunity for the younger generation of Russia to acquaint themselves more closely with Indian culture. The festival will highlight the sheer diversity of India, devoting a theme to a different part of the country on each of the first five days. Muscovites will be able to watch dance forms from different regions of India, including Kathak, Bharatanatyam and Odissi dances. There will also be cooking competitions between chefs from different parts of India.
The theme on Saturday, November 10, is 'India through the eyes of children' and will feature programmes as diverse as a rendition of the Hindu epic Ramayana and a Bollywood-themed disco event.
Detailed information on the events can also be accessed on www.hse.ru/culture/india
All rights reserved by Rossiyskaya Gazeta.