India to talk tough on Vikramaditya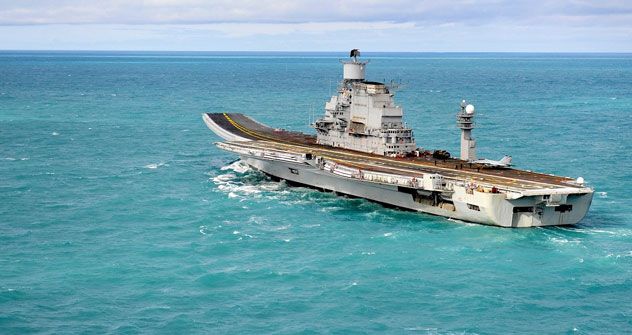 ndia and Russia signed the original $947 million dollar deal in 2005 for the purchase of the carrier, but delivery has already been delayed twice. Source: Maksim Vorkunkov/Press Photo
A Defence Ministry official tells PTI that India plans to raise the issue of delays in the delivery of the aircraft carrier in a "big way".
Frustrated with price escalations and long delays in the INS Vikramaditya aircraft carrier, the Indian Government plans to raise the matter in a "big way" during Russian President Vladimir Putin's December visit to the country, PTI said a Indian Defence Ministry source. The agency added that India may consider imposing a penalty of about $110 million.
"The issue would be taken up in a big way during President Putin's visit and we are also considering the option of imposing liquidity damages up to five per cent of the contract worth over $2.3 billion over delays in supply of the warship," a Defence Ministry source told PTI.


The Vikramaditya, formerly the Russian Navy's Admiral Gorshkov, which is already years past its original 2008 delivery date, was supposed to have been handed over on December 4, 2012, but sea trials in September revealed the ship's boilers were not fully functional.


Indian Defence Minister A. K. Antony said last month after the meeting with then-Russian Defence Minister Anatoly Serdyukov that the ship's prompt delivery to India was a priority. "All entities involved in modernising and testing the ship must work hard to complete the work and trials as soon as possible," he had said.
India and Russia signed the original $947 million dollar deal in 2005 for the purchase of the carrier, but delivery has already been delayed twice, pushing up the cost of refurbishing the ship to $2.3 billion.
The Vikramaditya was originally built as the Soviet Project 1143.4 class aircraft carrier Admiral Gorshkov. The Project 1143.4 carriers and a class of destroyers with the same engines suffered a history of boiler failures during their service lives.
During Putin's December visit, India is expected to sign a number of defence deals for procuring 42 Su-30MKIs, 71 Mi-17 V5 choppers, new hypersonic version of the BrahMos missiles, PTI said.
All rights reserved by Rossiyskaya Gazeta.