Skolkovo promotes Russian start-ups abroad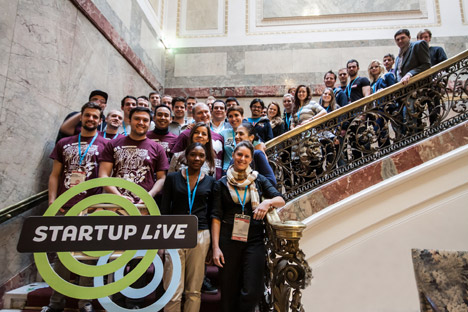 Participants of the Pioneers Festival, held on Oct. 29-31 in Vienna. Source: Heisenberg Media / Press Photo
After attending the Pioneers Festival, held on October 29-31 in Vienna, Skolkovo's companies is due to take part in the Slush festival, scheduled on November 21-22 in Helsinki.
A series of start-up festivals for venture capitalists is currently taking place in Vienna and Helsinki in October and November. Skolkovo's companies is among the participants.
"Our organization's image is no better in Russia than it is abroad," said Pekka Viljakainen, startup adviser to the president of the Skolkovo Foundation. "Ask any taxi cab driver what Skolkovo is and he'll probably say that it's just another fishy state-owned entity. But we receive quite modest funding, and people are our main capital. These are the people who are doing their best to convince Western companies to take Russian startups seriously. Trust me: two or three years down the road, they will start to be taken seriously here too."
His optimism is based on the lists of participants in the Vienna Pioneers and Helsinki Slush startup festivals. For example, IndoorGo, a company co-founded by the Urals Federal University and the Ariel University Center in Israel, has developed an indoor positioning service. Preliminary tests have shown that the algorithm makes it possible to position objects to within a few inches using just a smartphone and a wireless network. The system is intended for use in exchanging targeted information and gathering statistics on visitors to exhibitions, museums, supermarkets, shopping malls and other large indoor spaces.
Company Toytemic also has something interesting to offer.
"We have invented and implemented the concept of self-organizing sensor networks, where each element can be controlled remotely," said the firm's managing director, Yevgeny Smetanin.
"Ideally, this kind of technology could be applied to autonomous research or, say, geological stations consisting entirely of robots. These networks could eventually be used on other planets or in conditions where humans can't work. But this kind of robot equipment is still in its infancy right now, so we decided to implement the networks in more developed sectors first."
What Smetanin means by "more developed sectors" is games; it's no coincidence that Toytemic's main platform is called "Strategy on the Carpet." In layman's terms, this involves transferring computer strategies from virtual reality to real life. Toy soldiers with built-in chips can interact amongst themselves and carry out their owner's orders. The commercial prospects for this invention are self-evident, according to Smetanin. The level of electric engineering in modern mass-produced toys is on a par with that of primitive robots. This means that Strategy on the Carpet could sell well, provided it establishes contacts with leading manufacturers.
"That's exactly what Skolkovo is all about," said Viljakainen. "Take, for instance, Angry Birds – a project of a good friend of mine. Just think: If you were told five years ago that it was possible to make millions by coming up with a game where multi-colored birds hunt green pigs, you wouldn't have believed it. That looked like nonsense back then. Now you can see that it is quite possible."
"But ordinary Russians still cannot grasp the idea of making decent money simply by inventing something," he continues. "Everyone tends to believe that big money comes with a post in the government or a state-owned company. The mission of Skolkovo – and my mission – is to show the Russian people that they should not be afraid of starting their own business. Everybody makes mistakes, but risk shouldn't be confounded with danger. There's always a risk, while danger is very often just perceived."
All rights reserved by Rossiyskaya Gazeta.