Russian submarine passes Arctic trials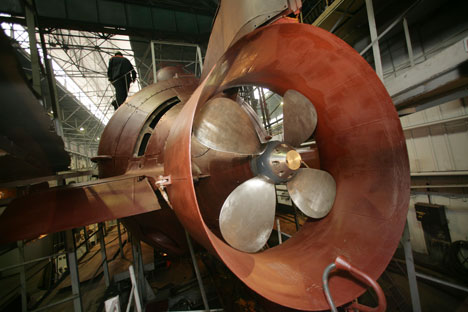 Losharik is a nickname given to Kalitka due to its peculiar shape. Source: ITAR-TASS
The unique submarine named Kalitka took a soil sample from the bottom of the Arctic Ocean, proving that the Mendeleev Ridge belongs to Russia's continental shelf.
The deep-sea, nuclear-powered 'Kalitka' submarine has been engaged in underwater drilling operations on the Mendeleev Shelf in the Arctic Ocean, as part of the Arktika-2012 expedition. A source at the Russian Ministry of Defence told Izvestia that the submarine helped make adjustments to the drilling operations carried out from the 'Kapitan Dranitsyn' and 'Dikson' diesel-electric icebreakers, in order to identify the outer bounds of Russia's continental shelf.
"The joint effort resulted in a substantial amount of geological material," the source said. "More than 500 kilograms of classifiable rocks were selected. The results of the survey will underlie Russia's application to the U.N. Commission on the Limits of the Continental Shelf, to allow extension of Russia's continental shelf – the initial application having been rejected because of a lack of geological evidence – and grant Russia the priority right to develop the deposits located on the shelf."
Referring to the Russian Ministry of Natural Resources and Environment, he stated that the Mendeleev Ridge and the Lomonosov Ridge had combined oil and gas reserves of more than 5.5 billion tonnes of oil equivalent.
The expedition explored the entire ridge, drilled three wells at two sites and collected soil samples. Kalitka operated at a depth of 1.5-1.9 miles for a period of 20 days. Powered by a nuclear reactor and equipped with a unique titanium hull, the submarine is able to stay in deep water much longer than battery-powered civilian bathyscaphes.
Kalitka is carried by the adapted Project 667 'Kalmar' submarine with disassembled ballistic missile launching tubes – the bathyscaphe is carried beneath it.
"We are in need of such machines. Besides Losharik [a nickname given to Kalitka due to its peculiar shape], only 'Mir' deep-sea stations are capable of working at depths of 2-3 kilometres (1.2-1.9 miles). We used both Mir stations during the previous expedition led by Artur Chilingarov. But the operations we performed recently were even more complicated and took more time. Mir stations can't support themselves that long, so we decided to use Losharik," the Izvestia source said.
According to a representative of the Ministry of Defence, a Mir station uses batteries that can last 72 hours underwater, while Kalitka is a full-scale submarine with a nuclear reactor that secures it a few months of self-contained operation. Losharik has a recreation room for its crew, workrooms and a kitchen. The air and water regeneration systems are as good as those installed in spacecraft.
"The Mir stations are pleasure bathyscaphes rather than research machines – they have weak manipulators with limited mobility, and you can't install deep-sea sounding equipment on them," the Ministry of Defence representative said.
Firts published in Russian in the Izvestia newspaper.
All rights reserved by Rossiyskaya Gazeta.