Fans in Russia just can't get enough of the NHL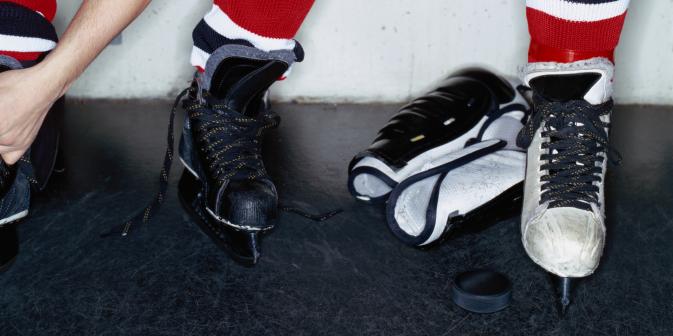 NHL has its strong fan base in Russia. (c) Getty Images / Fotobank
The number of NHL fans in Russia is growing exponentially. The legion of Russians playing across the ocean is rising by the year, and state-run channels in Russia have started broadcasting NHL games at their North American times. Even hockey fans among Russia's office workers tune in, not at all deterred by the formidable time difference.
Russian NHL fans normally flock around Russian-language websites dedicated to specific teams. The Russian Detroit Red Wings fan site, as a prime example, has about 6,000 unique visitors and in excess of 30,000 hits each day.
"I've been an NHL fan for 10 years now", says Semyon Kravtsov, founder of detroit-redwings.ru. "My dad shared his passion for the Red Wings with me when I was young. I admired Sergei Fedorov and Igor Larionov, who defined Detroit then. I fell in love with the NHL when I was a schoolboy and I watched the games that started at 4 a.m. or 4:30 a.m. I felt steamrolled when I got to school and often fell asleep during classes; but this only made me more passionate about North American hockey. Now, I try not to miss a single Red Wings game. Last season, I missed seven, and I was crushed when my favorite team was beaten in the first round of the playoffs. That loss helped the Russian national team, though, because my favorite player, Pavel Datsyuk, was able to join. I think Datsyuk played the most important role on Bilyaletdinov's team. His commitment and brilliant assists helped Russia win the world title. I hope Datsyuk will make it to the Sochi Olympics to win the gold there," Kravtsov says.
Last year, NHL games moved from cable channels to the state-run channel Russia-2, which is available all over the country. The channel focuses on games in which Russian players play and, last season, viewers were treated to numerous Washington Capitals, Pittsburg Penguins and Nashville Predators games (Alexander Radulov had moved to the Predators).
RBTH presents most interesting players and NHL newcomers are featured in the app, with their best and worst moments on ice, video games and paths to success
Read more >
"It is so great that we can now watch NHL games with Russian-language commentary," says Sovsport site editor and Washington Capitals fan Anton Lipkin. "We used to search online for hours trying to find links to broadcasts, but now all you have to do is to turn on your TV. I also subscribe to internet broadcasts on the nhl.com site. Last year's annual subscription cost me $15 a month," Lipkin says.
Those rooting for specific clubs, particularly those with no Russian players, opt for luvetv.ru, which offers links to all NHL games. The site features lively discussions during online broadcasts – a regular game gathers around 200 comments, while a playoff game has around 500. Last year's Stanley Cup playoff series between the New Jersey Devils and the Los Angeles Kings enjoyed top ratings, beating even the the UEFA Champions League final.
"When I was younger, the state-run channel showed just one game a week, and even that was a rerun", says Anton Chistyakov, creator of the Ilya Kovalchuk website kovy.ru. "When NHL games became available on network television, I immediately bought a satellite dish. You can watch interesting games on Youtube now – a video is available within an hour of the live broadcast, with all the goals, tackles and saves," says Chistyakov.
Despite development of the Internet in Russia, there are fans who are willing to change even their address for the sale of a favorite team – watching games live is simply the best.
"The NHL changed my whole life", says Miron Makeyev, founder of the NHL online and NHL for PRO forums. "I graduated and decided to move to the United States, hockey being one of the main reasons. I continued my studies and started attending NHL games – a dream came true! I could watch games at the arena but, back when I lived in Russia, I had to set my alarm to wake me at 3, 4, 4:30 or 5 a.m. to enjoy my favorite game. I live in New York but I'm a Pittsburg Penguins fan. Sidney Crosby and Evgeni Malkin are the best the NHL has to offer at the moment. Some of the severest critics doubt Crosby's status, but Malkin is untouchable. Last season, when Sidney was not playing, Malkin won the Hart Trophy as the most valuable player [in the league]. Evgeni needs just a couple of more titles to make NHL history forever."
Not all Russian fans have been as lucky as Miron, yet they also seek opportunities to go to the United States to watch hockey games. "Last season, we gathered 24 people from our fan club and sent them to Philadelphia to watch our favorite team play the Colorado Avalanche", says Evgeny Arkhipov, founder of the Russian site for the Philadelphia Flyers fans. "There could have been more of us, but many were refused US visas. Our club has about 120,000 members in Russia. The Penguins or some Russian clubs may have more, but we are proud of this figure. I'm sure it will keep growing," Arkhipov says.
In addition to the aforementioned web portals, NHL games can be followed on various online forums. Russian news services and sports sites have newswires that cover NHL events and specialized forums that provide discussion platforms. Russian NHL fans have access to almost as much information as their counterparts in North America.
All rights reserved by Rossiyskaya Gazeta.