Moscow's central streets introduce system of paid parking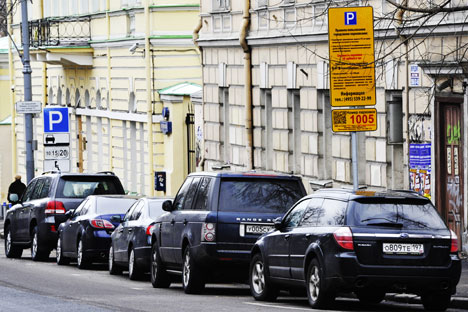 Moscow has been taking tentative steps toward introducing various paid parking schemes in its center – something most big European cities have already done. Source: ITAR-TASS.
Experimental on-street paid parking has been established on some of Moscow's central streets. Residents of Moscow's central district are unhappy with the move, but financial restrictions on drivers are inevitable in such a densely populated city with notoriously low road culture.
In November, an experimental on-street paid parking project kicked off, covering 20 streets in Moscow's center – for one, the legendary Petrovka Street, home to Moscow's police headquarters. The parking rate is currently set at 50 rubles ($1.6) an hour.
Streets now feature appropriate signs, as well as pay-and-display machines. Additionally, there is a pay-by-phone option available: to pay, one must send a text message to a short number, supplying the car registration number and the anticipated duration of the stay. To top it all off, the Moscow administration also offers an application that runs on all popular mobile devices, allowing the driver to initiate a withdrawal from his or her personal account by zooming the camera in on a QR code on the information board (prior registration on a dedicated website is required). People with disabilities are entitled to free parking, with some 10 percent of parking lots assigned for this purpose. There is no limit on the period of stay in a paid parking space.
The experiment will continue until the spring of 2013. If it proves a success, paid parking spaces will gradually multiply across Moscow, extending to the Garden Ring in 2014, and even to the Third Road Ring by 2015.
Experimental shortcomings
Meanwhile, the project immediately ran into problems: people living in the center ofMoscow have not been offered any parking rate discounts. Their cars (limited to one per apartment) can only be parked for free between 8 p.m. and 8 a.m., but they will have to pay the same rate as everyone else for the remaining hours – that is, 16,000 rubles ($50) a month. Many residential buildings on the streets covered by the project actually have no backyards where a car could still be parked for free. Furthermore, people living in the center of Moscow usually go to work by public transport and use their cars only on weekends to go shopping or out of town. They have found themselves at a disadvantage by having to park their cars just outside of their houses.
An initiative group started collecting signatures of residents on "experimental" streets right away and has already had a meeting with the head of the road traffic department of the Moscow government, Maksim Liksutov. For his part, Liksutov tried to make it clear to discontented residents that the administration had to make the move in order to improve the traffic situation in the capital. They were not reassured, however. "You are actually forcing us to give up our property," said Leonid Antonov, who spearheaded the collection of signatures under the parking petition. "You are discriminating against us on the basis of where we live. You are heading for a public outburst." The speech, however, fell flat, and Liksutov responded: "No discrimination. It's about a car ownership cost."
Yet, while the on-street paid parking is still an experimental project, local residents have a chance of getting their own way. "There has to be a reasonable combination of paid and free parking lots. Making all parking spaces along a certain street paid is hardly justified," deputy chairman of Vash Yuridichesky Poverenny (Your Attorney) law firm, Vladislav Kapkanov, told Lenta.ru. Furthermore, even Moscow's prosecutor general has criticized the initiative of running counter to federal laws and the Russian Constitution. "I believe this decision can be appealed in court with a fairly high degree of success," said Kapkanov.
Parking queue
Moscow has been taking tentative steps toward introducing various paid parking schemes in its center – something most big European cities have already done. Before this project, both entrance to and parking in the city's center were free, including parking spaces along central streets that are usually heavily congested with traffic. "First out of bed, first to park" is the rule to which Moscow car owners have long since been accustomed. Naturally, there are not enough parking spaces for everyone, so drivers park cars in violation of road traffic rules, making second or even third rows, on pedestrian crossings, bus stops and lawns. Higher penalties introduced in July 2012 improved the situation slightly: now, offenders in Moscow or St. Petersburg will be fined 3,000 rubles (roughly $100), and those outside these two largest cities – 1,500 rubles ($50) for parking violations. Parking tickets are issued automatically: special cars move up and down streets taking pictures, and parking tickets are later assigned to offenders.
Meanwhile, ingenious car owners have found a way around the law: they cover a letter or number on their registration plate with nontransparent duct tape or a fallen autumn leaf, as though it had stuck to the plate by chance. Road traffic police, however, now threaten that such cars will be immediately towed and their owners fined double.
Moscow is one of Europe's most densely populated major cities, so it was inevitable that the city administration would have to resort to financial controls over the city's traffic. All that remains now is to complete the experimental project and find reasonable compromises for unsatisfied residents.
All rights reserved by Rossiyskaya Gazeta.