Russia reacts to Obama's re-election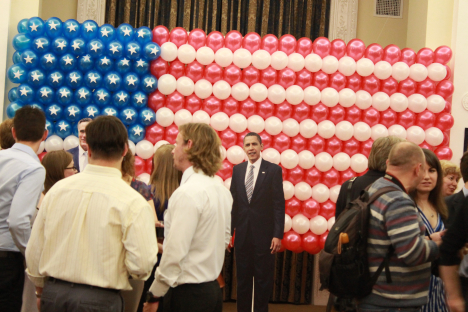 The 2012 Election Night in Spaso House. Source: RIR
Members of Russia's political elite express their views on Barack Obama's victory over Mitt Romney in this week's US presidential election.
The Kremlin reacted to the news of Barack Obama's victory in the US presidential race "quite positively," Dmitry Peskov, spokesman for Russia's head of state, said on Wednesday. Russian President Vladimir Putin has already congratulated his re-elected counterpart in a telegram, Peskov told RIA Novosti.
The concluding moments to what has been widely reported as the most expensive election campaign in US history, attracted countless observers in Russia who were quick to share their views.
Thanks to the time zone differences, there was no need for locals to stay up late to hear about Obama's victory as soon as it was announced, when he snared 303 electoral votes, well above the 270 needed. The other candidate, Mitt Romney lost with 206 electoral votes, out of possible total of 538.
The Moscow News has gathered the top comments from Russia's most influential officials.
Prime Minister Dmitry Medvedev:
"I'm happy that the man who believes Russia to be the main enemy [of the USA] is not going to become the president," he said during a visit to Hanoi, Vietnam, referring to Romney's statement that Russia was the United States' "No. 1 geopolitical foe."
He said Obama was "a comprehensible and predictable partner" for Russia, and expressed hope for a "normal relationship."
Foreign Minister Sergei Lavrov:
"On the basis of equality, mutual benefit and respect, we are ready to go as far as the American administration will be ready to," he told Moskovskiye Novosti.
The minister also noted that Obama's administration was set for post-electoral refurbishment. In particular, the current US secretary of state, Hillary Clinton, has announced that she will step down.
Vladimir Zhirinovsky, founder and head of nationalist Liberal Democratic Party of Russia:
"What will Barack Obama do now? Nothing. There will be no third presidential term for him, and he just wants to reign for four years touring abroad, he can't resolve the country's internal issues," he told Kommersant FM adding that US citizens have chosen to go on vacation too.
"America has condemned itself to stagnation," Zhirinovsky said. "I think it's the start of a slow self-isolation of the USA," Zhirinovsky added.
Gennady Zyuganov, head of the Communist Party:
"I'm more worried about their foreign policy, because Republicans and Democrats have little differences when it comes to it," Kommersant FM quoted him as saying.
Zyuganov said he expected the USA to intervene in Russia's internal affairs and push the country into "all kinds of risky gambles."
Mikhail Margelov, United Russia party member and head of the Federation Council's Foreign Affairs Committee
"The re-elected president of the USA is to face difficulties posed by the current agenda – the continuation of the 'reset,' with the consequences of the Strategic Offensive Arms Reduction Treaty, NATO's non-expansion to the east, agreements on Afghanistan," he said in a comment posted on the United Russia's official website.
Attempts to continue the reset stumble upon the anti-ballistic missile defence problem, he added. "Nearly all the achievements of [Obama's] previous term in this field, apart from the Jackson-Vanik amendment, have played out," he added.
But what Putin said, remains unrevealed. Peskov said the text of his telegram is to be published after it reaches the addressee, not earlier.
First published in the Moscow News.
All rights reserved by Rossiyskaya Gazeta.