Russian ISKCON followers look to Pranab Mukherjee for support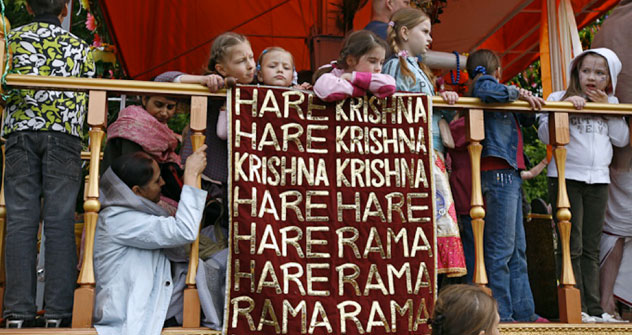 Believers of the Hare Krishna movement call for the Indian President's support in the construction of a new Krishna temple in Moscow.
Representatives of the Hare Krishna or ISKCON movement in Russia met Indian President Pranab Mukherjee last week to gather support for the construction of a temple and cultural centre for the community in Moscow, Russian website news.ru said. The delegation was led by Bhakti Vijnana Goswami, the chairman of the governing body commission of ISKCON's Moscow unit.
Goswami told the president that the growing community of ISKCON (which stands for International Society for Krishna Consciousness) followers in Russia was in urgent need of a new cultural hub in Moscow. We need a modern centre, which reflects the "spirit and tradition of friendly Russian-Indian relations," Goswani was cited by news.ru as saying.
In 2004, the Moscow city government did not allow ISKCON to build a sprawling prayer-cum-cultural complex in central Moscow. Later, the movement was permitted to set up its centre in a Moscow suburb. Land was allotted in 2010 for a new temple and cultural centre, but work has yet to begin as ISKCON followers claim to be up against red tape from Moscow city authorities.
Goswami told the Indian President that that Russia and India agreed on the construction of the cultural centre in 2002 and this issue was taken up by Prime Minister Manmohan Singh, when he visited Moscow last year. "Vaishnava communities exist in Russia for more than 40 years, and the current stage of development is characterised by peaceful integration, growing interest in social service, health promotion, and of course, the deepening friendship between the Russian and Indian people," Goswami said.
ISKCON says it has around 100,000 followers in Russia spread over 100 communities from St Petersburg to Sakhalin Island. The popularity of the movement in smaller Russian towns has often led to resentment among followers of Russian Orthodox Christianity. Last year, prosecutors in Tomsk tried to get the ISKCON version of the Hindu holy book Bhagavad Gita declared "extremist." This led to an uproar in the Indian parliament but the Tomsk court rejected attempts to ban the book and the movement.
Followers of the ISKCON movement account for a large proportion of Russian tourists to India. Twice a year, members undertake pilgrimages to the holy places such as Vrindavan and Mathura (the birthplace of Krishna), Jagannath Puri, the Himalayas, and southern Indian temples and shrines.
All rights reserved by Rossiyskaya Gazeta.