A real performer
Road to the NHL: From Novokuznetsk to Columbus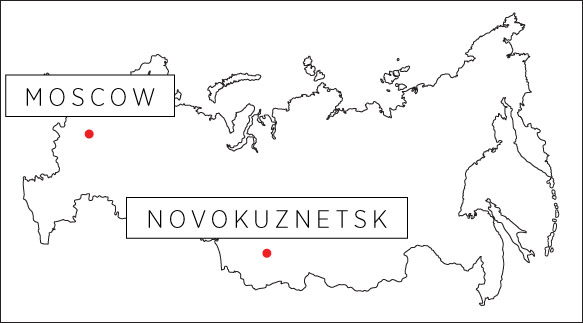 NICKNAME: Bob

His profile on Facebook
His page on Twitter
BORN Sept. 20, 1988 in Novokuznetsk, Russia
HEIGHT: 6 ft 2 in
WEIGHT: 190 lbs
CONTRACT FOR 2012/13 SEASON:
$900,000
CAREER IN NHL:
83 matches


42 wins

91 % save percentage
CAREER: Metallurg (Novokuznetsk), Philadelphia Flyers (NHL)
"Whatever challenge Sergei takes on, he always excels," said Bobrovsky's first coach, Alexei Kitsyn. "If he were not a goalie, he would make an excellent right winger or centre forward. As soon as he steps on to the ice, he gives 100 percent to the game, whether it is a real match or a practice game. He could not have been any more dedicated to the game and his parents should be praised for this. They are good decent people and always trusted the coach, which is exceptionally important in molding a young athlete.
"Hockey is always number one for Sergei – I saw this when he started training. We were short of rinks and often had to schedule practice at 6:30 a.m. His family lived at the opposite end of the city and it took him an hour to get to the rink. Many dropped out for this reason but Sergei was committed to the game. I don't think I taught Sergei all by myself," Kitsyn continued. "When he appeared on the ice wearing a goalkeeper's uniform for the first time, we had no special coaches to work with goalies. I taught him the basics – how to hold the stick, how to move towards the shooter. Someone compared him to Tretiak once, but Sergei snapped: 'I'm not Tretiak, I'm Bobrovsky.'"
Bobrovsky played his debut game for the first Metallurg team in the spring of 2007. Sergei Nikolayev, the new Metallurg coach, put the 18-year-old in the goal three games before the end of the regular championship and Metallurg immediately defeated Moscow HC Khimki (currently known as Atlant).
After completing three seasons (and playing 100 games) in Novokuznetsk, and following his debut for the junior national team and then the national team, he left for the NHL. Philadelphia had wanted to take the talented youth from Siberia earlier, in the NHL draft, but at the last moment Flyers general manager Paul Holmgren got cold feet and Bobrovsky was never drafted. However, after four seasons in Novokuznetsk, Bobrovsky again caught the eye of scouts and signed a free-agent contract. The Flyers took notice of the Metallurg goaltender because of its European scout Ken Khudyakov, who was working for a year in Novosibirsk helping to staff HC Sibir.
Bobrovsky's final games in Novokuznetsk were a real performance. He played for the Kuznetsk Bears in the spring of 2010, taking his team to the MHL Playoffs. The Novokuznetsk team reached the final and won the silver medal, but local fans are sure they could have celebrated first place, had it not been for the Magnitogorsk managers, who insisted on Bobrovsky leaving for test games against the Italian national team.
The assumption was that Bobrovsky would start the 2010/11 season in a farm club, but then goaltender Michael Leighton (a veteran recently brought to the Flyers for the Stanley Cup final) was sidelined with an injury.
For the most part, Bobrovsky had an excellent season and was even mentioned at one point as a candidate for the Calder Memorial Trophy, awarded every year to the player deemed most proficient in his first year of competition in the NHL, but the playoffs were a fiasco for him. Many experts considered this only natural, given that Bobrovsky had not had any training or experience in a farm club. At mid-season, rather than trust Bobrovsky to improve, Philadelphia signed another Russian goaltender, Ilya Bryzgalov. Although many fans feared that Bobrovsky would then spend most of his time on the bench as Bryzgalov's backup, it turned out to be the other way round – Bryzgalov, the best-paid goalie in the NHL, is often benched in favor of Bobrovsky.
In his own words
About legionnaires in Russia
"I have to thank Tretyak for adopting that law. In principle, that's the only reason why I got my chance — when they introduced a limit on legionaries. At that time in Novokuznetsk there were two legionary-goaltenders. So I was the reserve goaltender, and toward the end of the season I began to be given some chances — 10 minutes, a period, a game.
About his style
"When I was younger, Martin Brodeur might have been my idol, but that was before I started playing hockey seriously. I keep an eye on many goaltenders, trying to learn the best from them. I cannot say that I look like any of them."
About his start
"When I first stepped on to the rink for the NHL, I had a feeling that it was a totally different world, as if I were on the Moon. Then I started getting used to this new reality. I started understanding the local rules better and changed my point of view on many things."
"Bobrovsky is unbelievably fast and he learns quickly, adapting immediately to the North American style. But there are components in his game that require improvement. For instance, his stick game, work with the puck, and he also needs to work on some other elements – they sometimes score between his pads and in the upper-left corner, so he needs to work on his trapper. Even so, I see progress in each of these components", said Anthony SanFilippo, an NHL expert.
Famous for
Unbelievable speed
Bobrovsky won 11 of his first 14 matches in the NHL; he was named Rookie of the Month in November 2011.
Bobrovsky was one of two goaltenders (along with Semyon Varlamov) on the junior team from Russia during the 2007 Super Series against the Canadians. Bobrovsky lost all four matches in which he played, failing to save a total of 21 goals.
Personal
Kremlin and Liberty Bell on helmet
In the summer of 2011, Bobrovsky married his girlfriend Olga at a registry office, but postponed the wedding. The young couple was anxious about Olga receiving a U.S. visa, which is why they made their relationship official. They are planning a summer wedding.
The drawing on Bobrovsky's mask is full of symbolism. On one side there is a MiG jet fighter flying over the Kremlin, as a symbol of Russia. On the other side, there is an American jet fighter (a plane, since Bobrovsky plays for the Flyers) flying over the Liberty Bell, the symbol of Philadelphia. And on the back is the old kremlin (or fortress) in Bobrovsky's native Novokuznetsk.
All rights reserved by Rossiyskaya Gazeta.