Kyrgyzstan and Tajikistan to get $1.5 bln of Russian money for military spending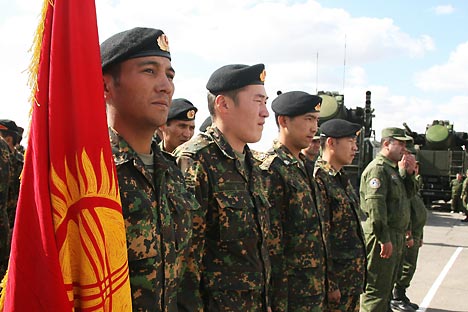 Russia is prepared to spend $1.1 billion on modernising Kyrgyzstan's army and $200 million on meeting the needs of Tajikistan's armed forces. Source: ITAR TASS
Faced with US attempts to put a squeeze on Russia in Central Asia, Moscow is taking measures to bolster its positions in the region.
Russia is prepared to spend $1.1 billion on modernising Kyrgyzstan's army and $200 million on meeting the needs of Tajikistan's armed forces, Kommersant has learnt. Moscow will also give Dushanbe $200 million in benefits on petroleun products. Experts warn that Moscow is "taking a risky step that might have unpredictable consequences".
In response to US attempts to gain a foothold in Uzbekistan (see Kommersant, 23 August), Russia is strengthening its military-technical cooperation with Kyrgyzstan and Tajikistan. According to Kommersant's sources close to the Russian-Kyrgyz Intergovernmental Commission, Moscow has promised Bishkek $1.1 billion for modernising its army. Agreements to this effect were reached during the visits to Bishkek by Deputy Prime Minister Igor Shuvalov in August and President Vladimir Putin in September. The issue will be high on the agenda for Kyrgyzstan President Almazbek Atambayev's visit to Moscow on 14–15 November, according to Kommersant.
At issue is not a loan but military support. According to Kommersant's source within the Russian General Staff, the Russian Defence Ministry is to agree with Bishkek the range of goods covered by the programme by March 2013. The first consignments of Russian weapons will be shipped to Kyrgyzstan as early as next summer, according to Kommersant's source in the Russian Government.
Kyrgyzstan's Army is noticeably weaker than that of its neighbours in the region. As President Atambayev admitted recently, only the NATO-trained 25th Special Forces Brigade Scorpio meets modern requirements. Kyrgyz artillerymen, for example, still use 122- and 152-mm M 30 and D-1 Howitzers, vintage 1938 and 1943, respectively.
"We don't even have proper uniforms", a member of the Defence Council and Chairman of the Defence and Security Committee of Kyrgyzstan's Parliament, Tokon Mamytov, shared his woes with Kommersant. "The Russian Army's 2009 military kit would suit our soldiers very well." He said that the list of weapons Kyrgyzstan would like to get from Russia "misses only satellites and aircraft".
Bishkek needs all types of small arms; it hopes to get new armoured personnel carriers and armoured reconnaissance vehicles, helicopters, field and stationary hospitals. The Kyrgyz Defence Ministry needs light vehicles, portable motors and satellite equipment for operations in mountainous terrain. According to Kommersant data, the training of Kyrgyz servicemen in Russia will be expanded significantly.
The programme of military support for Tajikistan is more modest, with Russia prepared to shell out $200 million. The money will be used for modernising the Republic's air defences and repair military hardware. But that is not all Dushanbe can hope for.
As this paper has reported, Tajikistan would like Moscow to pay $250 million for leasing the 201st Russian military base. However, during Vladimir Putin's recent visit to Dushanbe, it was agreed to extend the lease by 30 years without any fresh payments. Instead, Moscow has agreed to ease the regime for Tajikistan citizens on the territory of the Russian Federation and said it would think about investing in construction of hydroelectric power stations in Tajikistan.
Meanwhile, Kommersant has found out that, during that same visit, an agreement was reached on easy terms for Tajikistan in the supply of Russian petroleum products. Russia will forgive Tajikistan customs duties close to the sum that Dushanbe wanted for lease of the base, about $200 million a year.
According to Kommersant's source in the Russian Government, by investing in modernisation of the armed forces of Kyrgyzstan and Tajikistan, Moscow hopes to "strengthen the potential of the CSTO in face of threats that might arise after US troops withdraw from Afghanistan in 2014", as well as to keep its own defence enterprises busy. At the same time, Kommersant's source admits that Russia hopes to prevent the US from strengthening its positions in the region. Only recently, both Bishkek and Dushanbe were showing an interest in getting hold of American weapons withdrawn from Afghanistan. "Along with weapons, American instructors and technicians would have come", our interlocutor explains. "That would inevitably have increased America's influence in the region. Now that avenue is blocked."
Even so, expert opinion on Moscow's moves is divided. "Russia is simply reverting to the course it has followed over the past two centuries – under the tsars and under the Communists", PIR Centre's expert Vadim Kozyulin told Kommersant. "Moscow's plans may only succeed if its arsenal, in addition to weapons, includes 'soft power', i.e., projects that would interest not only the government elites but also the ordinary people in the Central Asian republics."
Alexei Malashenko, an expert with the Carnegie Moscow Centre and author of the book "Central Asia: What Russia Is Counting On", warns that, by investing unprecedented amounts in modernising the military in Kyrgyzstan and Tajikistan, Russia is taking a gamble. "This is a risky step, with consequences that are hard to predict", the expert explains. "Russia is not only signing up to support the wobbly regimes in Kyrgyzstan and Tajikistan; it is also making a gesture that will further complicate its already strained relations with Uzbekistan."
In the expert's opinion, Moscow's move is prompted by the "knowledge that economic levers for strengthening Russia's influence in the region have been virtually exhausted, whereas the main rivals – the USA and China – are gaining control of that strategically important region".\
First published in Russian in Kommersant Daily.
All rights reserved by Rossiyskaya Gazeta.