Naomi Campbell throws lavish parties for Russian oligarch Doronin in India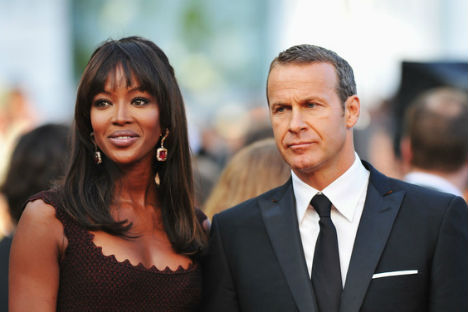 Supermodel Naomi Campbell with her boyfriend Vladislav Doronin. Source: Getty Images
Supermodel keeps a 2-day 50th birthday celebration for her boyfriend Vladislav Doronin in the state of Rajasthan.
International Supermodel Naomi Campbell threw an extravagant 50th birthday party for Vladislav Doronin, her Russian oligarch boyfriend in the fabled Rajasthani city of Jodhpur. The two-day celebration had a guest list that included Bob Geldoff, Demi Moore, Kate Moss and the Duchess of York Sarah Ferguson, with guests being flown in to India on 12 chartered planes.
Celebrity guests dressed up in traditional Indian clothes for the first party, which was held at the 15th century Mehrgarh Fort. Campbell was oddly dressed in a white sari (Hindus wear white as a symbol of mourning). The second party followed an art deco theme and had a live performance from legendary singer Diana Ross.
Doronin, who has been dating Campbell since 2008, is believed to have a net worth of over $1 billion and is the president of Capital Group, a Russian real estate development and construction company focused on elite housing complexes. Capital Group has a portfolio of over 65 completed projects but is most well known for its involvement in 'Moscow City,' an under-development international business centre, located near the Third Ring Road in Presnensky District of western Moscow. The centre is expected to become the first zone in Russia to combine business activity, living space and entertainment in one single development.
The guests at the birthday party stayed at the Umaid Bhawan Palace, a palace converted into a hotel and run by the Taj Group where rooms cost around $850 a night. All the rooms in the hotel were booked by Campbell for the party.
Share of Controversies
Like most events involving celebrities in India, this birthday bash ran into some trouble. A match of elephant polo was cancelled after animal rights activists protested. PETA complained to the Rajasthan Government to ban the match, claiming that wild elephants were captured and put into captivity for the match. After the government heeded to the request to ban the match, PETA representative Sachin Bangera told RIA Novosti, "we are happy that cruelty has not become a part of the celebrations."
A few of the guests were also fined for smoking at the Jodhpur Airport, according to the Times of India. The paper also quoted police sources as saying that a dozen vehicles were fined for flouting traffic rules.
The celebrations were a huge boost for the tourism industry in the state of Rajasthan, which is one of the most popular destinations in India.
All rights reserved by Rossiyskaya Gazeta.