North American character with European techniques
Road to the NHL: From Kazan to Winnipeg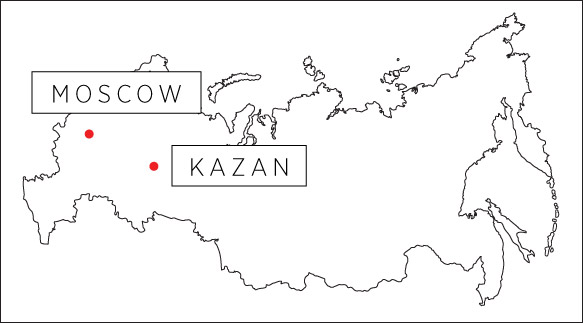 NICKNAME:
Burmi
BORN Oct. 21, 1991 in Kazan, Russia
HEIGHT: 6 ft 1 in
WEIGHT: 180 lbs
CONTRACT FOR 2012/13 SEASON:
$900,000
CAREER IN NHL:
150 matches


19 goals

29 points
CAREER: Ak Bars (Kazan), Barrie Colts (OHL-juniors), Atlanta Thrashers (NHL), Winnipeg Jets (NHL)
As a member of the Ak Bars reserve team in his native Kazan, Burmistrov played only one game. That was enough for him to understand that at age 17 he wasn't likely to make it onto the main team in the KHL. Like most players who have outgrown the reserve team but haven't made it onto the main team, the solution was simple: go overseas. In the junior league in Ontario, he could both play all he wanted and raise his draft rating.
During his one season in the OHL, Burmistrov did what works best: he racked up roughly one point per match and let anyone who cared know that he had no intention of returning to Russia. Burmistrov scored 22 goals and dished out 43 assists, clinching the regular championship with his team. Even so, they lost the playoffs to Windsor. Burmistrov took a few weeks off in Russia, after which he returned for tests and interviews in Toronto.
Atlanta, which had resigned itself to the unavoidable loss of Ilya Kovalchuk, quickly seized on the talented center forward and made him one of the top numbers in the draft. Burmistrov did not disappoint; he worked hard at training camp and made it onto the main team. His debut season with the NHL was not overly brilliant.
At 19, Burmistrov did not yet have the necessary physical might. However, by the next season, when the Atlanta Thrashers flew to Winnipeg, Burmistrov's place on the main team was assured.
The Atlanta Thrashers were pleased with the young Russian. He was mostly a third- and fourth-line player for the team and had almost no power play time. A leg fracture in February also affected his stats – he had to miss eight games. He tallied 20 points (6 goals and 14 assists).
This season, Burmistrov has played a more mature game. Although the Winnipeg Jets did not make it into the playoffs, the team was praised in the media.
"Burmistrov has European techniques, but his body and character are those of a North American. He is exceptionally gifted but he is also incredibly tough," U.S. hockey agent Mark Gandler said, describing the Russian player.
In his own words
About fights
"So that's what happened: Tavares decided to fight me – I turned around and saw that his gloves were already off. I had a better look at him and thought: 'No big deal, I can fight this one.' It was my first fight in North America. It sometimes happened in Russia, when I played for the second team."
About rookies
"I guess they trust young players more and support them in the NHL. This makes them stronger and more confident. The press sees the results of this process and it is not promotion that works here."
About humor
"I was supposed to tell a joke but it fell flat – they don't get our humor. I started telling it but then stopped. I thought it was better to stop then before someone else stopped me. Then I was supposed to do an impression and dance. I did not dance, but I imitated Brent Sopel's peculiar manner of getting ready for games, and I was a success."
Famous for
Being an ideal center forward
For style of play, Burmistrov is an ideal center forward. He is incredibly technical, with excellent peripheral vision, and always ready to make a pass. It was thanks to one of his passes that Kazakhstan's Nikolai Andropov scored the first goal in the history of the current Winnipeg Jets club.
At the same time, Burmistrov can play rough and has already done some brawling, as when he challenged high scorer John Tavares of the New York Islanders to a fight. For both players, it was their first scrap in the NHL.
Personal
A family guy
After his first season in the NHL, Burmistrov got a tattoo on his side. It's an inscription in English: Myfamilywillalwayshavefirstplaceinmyheart.Angelica,Oleg,Mark. Those are the names of his mother, father and brother.
Burmistrov's idol is Pavel Datsyuk. Burmistrov says that Datsyuk works miracles on the rink. During his season in the U.S., Burmistrov's mother moved over to join her son. "The response was fine. Even the coaches said that it was a good thing Mother came," Burmistrov said. "I used to stay at home all the time, and mom cooked, so I had the food I liked. I was happy to have her around." Burmistrov has many friends on the Winnipeg team. "I spend a lot of time with Patrice Cormier – we might go somewhere together or go to my place. At weekends, we might go to a restaurant or take a walk. Evander Kane sometimes joins us," the forward said.
All rights reserved by Rossiyskaya Gazeta.