The league's best defensive forward
Road to the NHL: From Yekaterinburg to Detroit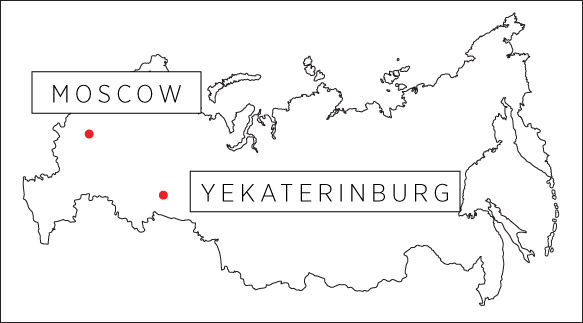 NICKNAME:
Spider Man, Moves, Pavs, Dats, Magician
His profile on Facebook
His page on Twitter
BORN July 20, 1978 in Sverdlovsk (Yekaterinburg), Russia
HEIGHT: 5 ft 11 in
WEIGHT: 198 lbs
CONTRACT FOR 2012/13 SEASON:
$6,700,000
CAREER IN NHL:
732 matches


240 goals

478 assists
CAREER: Spartak (Yekaterinburg), Dynamo-Energia (Yekaterinburg), Ak Bars (Kazan), Dynamo (Moscow), Detroit Red Wings (NHL)
Datsyuk grew up in Sverdlovsk (now Yekaterinburg) in the Urals, but because of his less-than-imposing size, he was never considered an elite player. In his youth, Datsyuk played on local teams and was a candidate for the NHL in 1996 and 1997, but it wasn't until 1998 that he was drafted (in the sixth round, 171st overall) by the redoubtable Detroit Red Wings. He was the Red Wings' eighth pick. The managers liked his game and his mastery, but they weren't sure that he was strong enough to play in the NHL.
Datsyuk's career might well have begun and ended in Yekaterinburg with a serious knee injury. At the time, he was playing for Dynamo-Energia and the club scraped the money together for an operation. But the surgical intervention had almost no effect: Datsyuk could still not bend his knee. Luckily for him, however, his old coach Vladimir Krikunov, then working with Ak Bars Kazan, intervened. He insisted that Ak Bars buy the injured center forward from Dynamo-Energia for $100,000.
Datsyuk spent the next six months in treatment in Kazan. The doctors there managed to put Datsyuk back on his feet, and he played the 2000/01 season with Ak Bars. His stats were not outstanding: 26 points in the course of 42 games (9 goals, 17 assists), but the Red Wings felt that was enough to bring him into the NHL the following season.
Famous for
Being a consistent top scorer
In Detroit, hopes for the Russian rookie were fairly high. The team, which already had a number of stars, was hoping to win the Stanley Cup for the third time in six years. Datsyuk arrived in Detroit at a time when the Red Wings boasted such players as Soviet legend Igor Larionov and NHL star Brett Hull. They taught Datsyuk various aspects of the game and supported him when he made mistakes. Datsyuk was put on a line with Hull and Boyd Deveraux, and showed fine results his first season: 35 points (11 goals, 24 assists) in 70 games. In the NHL he stood out for his brilliant goals, his stick-handling and accurate shots. In the decisive matches of the playoffs, Datsyuk scored three goals and made three assists that helped the Red Wings win the Stanley Cup.
The team continued to have great hopes for Datsyuk during his second season in Detroit, especially after the team signed another top-class player, Henrik Zetterberg. The Swede replaced Deveraux on the Datsyuk-Hull line, but Datsyuk played only 64 games due to another knee injury. Even so, he racked up 51 points in the 2003 season. His playoff performance that year left something to be desired, but the same could be said of the whole Red Wings team. Datsyuk did not earn a single point in the course of four games against the Mighty Ducks.
The departure of fellow Russian Sergei Fedorov from the Red Wings halfway through the 2003/04 season gave Datsyuk more chances to improve his game. He now became the Detroit's de facto number one forward. He no longer had the benefit of his mentor Larionov, who had moved to the New Jersey Devils, but now Brett Hull began to have a greater influence on Datsyuk's game. Larionov's game had always been an example for Datsyuk from the point of view of technique and passes, meanwhile Hull taught him how to make shots from any position. This made him a better player overall, and as a result Pavel racked up 68 points (30 goals, 38 assists) in 75 games in the 2003/04 season. He also earned a spot in the 2004 NHL All-Star Game. In the playoffs, he scored no goals, but made six assists. Still, that was not enough to help the Red Wings, and they were knocked out in the second round.
In 2004, Datsyuk became a free agent. Despite his assurances that he wanted to remain in Detroit, Pavel was unable to reach an agreement with the Red Wings, and during the 2004/05 NHL lockout he returned to Russia to play in the Superleague as part of Dynamo Moscow.
On Sept. 19, 2005, after extended negotiations, Datsyuk agreed to a two-year contract with the Red Wings for a total of $7.8 million. On his return to the NHL, he continued his high level of play, racking up 87 points (29 goals, 58 assists) for the 2005/06 season, the best showing of any player on his team.
In April 2007 the Red Wings announced at a press conference that Pavel Datsyuk had signed a seven-year contract extension for a total of $46.9 million. His contract was the largest in the history of the Red Wings.
After a slow start in the 2006/07 season, Datsyuk was unstoppable in the second half. He had a career year, with 97 points in 82 games; he also led Red Wings forwards in blocked shots and plus/minus (plus 41). But this was all nothing compared to what awaited Datsyuk and the Red Wings at the beginning of the summer. His 10 goals helped Detroit win back the Stanley Cup. The NHL named him Gentleman of the Year and awarded him the Frank J. Selke Trophy as the league's best defensive forward. He would receive the same package of awards the following summer of 2009 with one exception — in the finals of the playoffs, Detroit lost to Pittsburgh.
Datsyuk is a consistent top scorer and the league's best defensive forward. Although his stats this year have been lower than in the past, Datsyuk remains one of the game's best hockey players on both sides of the arena.
Personal
Loves fishing
In his own words
About fights
"When defensemen start hitting, no one takes pity on me! If I see a chance to settle accounts, I'll happily take it."
About his hobby
"If I hadn't become a hockey player I would have gone into interior design. I thought up almost everything in our Detroit house myself. My style is 'art nouveau light.'"
About regime
"It's very important to have a regime. Every player has to get his priorities straight. What do you want out of life? To go to parties or play hockey? You have to limit yourself in some things. Even though sometimes you want to go wild. But too much is at stake. That's why you have to control yourself and take responsibility for your life."
Datsyuk married while still playing in Russia. He met his wife Svetlana in a café in Yekaterinburg. He didn't mention that he played hockey because "I didn't want to scare her off." He told her that he was a student, but eventually he had to confess. When Datsyuk suffered his fateful first knee injury, Svetlana spent days on end with him in the hospital; when he went to play for Kazan, Svetlana quit college to follow him there. Many Russians, on signing their first NHL contract, immediately buy themselves expensive cars, but Datsyuk is an exception to the rule. He waited until the end of the season to buy the latest BMW — once he had won the Stanley Cup, Datsyuk could make himself that present with a clear conscience. Datsyuk and Svetlana have a daughter, Liza. His closest friends on the Red Wings team are Henrik Zetterberg and Valtteri Filppula. His favorite place to go on vacation is the Maldives. In 2010, Datsyuk gave the Yekaterinburg Zoo a baby elephant, now named Dasha.
Datsyuk's hobby is reading. "I like to read, so I am never bored when I am at training camp," he said. "This time round, I took Leo Tolstoy's 'War and Peace' to America. I first read it at school. Now I thought I would re-read it to compare my impressions today and when I was in my teens. I want to rediscover that great work."
Datsyuk's favorite soccer player is Lionel Messi and his favorite team is Juventus Turin. Fishing is one of his hobbies. Even in the U.S., he gets away once a month to do some fishing.
Datsuyk is a true Russian patriot. "What is a patriot? You have to feel it. It's our Orthodox religion, laws and priorities. The way your parents bring you up. If you hold a Russian passport, that does not automatically make you a patriot. And vice versa: if you have become an American citizen by getting their passport, you don't stop loving your country," he said.
All rights reserved by Rossiyskaya Gazeta.