Sergei Yeremeyev is a former Muscovite who has lived on Olkhon Island in Siberia's Lake Baikal for the last seven years. In the 1990s, he worked for a major global company, carried a gas-pistol in his jacket pocket, and used to play at the casinos. Nowadays he is a simple verger at a church and dwells with his family in a cramped log cabin near the church.
Sergei rises at seven each morning. He goes to open the church and waits to see how many will come to pray. This is the only church on the island. If it were not for Sergei, then the church would either remain devoid of worshippers or closed most of the time. He built the fence around the church himself, found a church-bell, and helped build a bell-tower. To look at him, one would say he was around 35. He has several diplomas, including one from the Sorbonne. He is fluent in English and French, and understands Greek. Long ago Sergei worked as a headhunter – he worked in personnel recruitment.
"And then I got sick of it all," he says, sipping local farm milk from a mug and sitting in a room of his house, whose walls are scattered with icons. "I went to study in Paris, and then I went travelling big-time. But the main thing that interested me was Russian monasteries. Perhaps it's only when you find yourself abroad that you begin to take a serious interest in the history and culture of your own country?"
During his university vacation, Sergei packed his rucksack and set off on the road. "Where y'going?' drivers would ask him. And he answered honestly: "To Holy Mount Athos." He began his journey with 500 francs in his pocket, but ended with a thousand. The drivers who offered him lifts not only gave him medicines, but money too.
"Well, how can I explain what I did there at Mount Athos?" Sergei says, smiling. "Mount Athos is the kind of place about which one should keep silent."
Eight hours of prayers, eight hours of work, and eight hours of rest – it was the daily regimen at the Holy Mountain. By degrees, Sergei's interests changed. He stopped blowing his money, stopped going to casinos, and stopped associating with many of his friends.
"It felt like I began even to breathe differently then."
"I got sick of it all," said Sergei about Moscow, Paris, education and languages. Source: Cornelius Langenbruch

One of the monks at Mount Athos suggested that he should stay there – forever. Yet Sergei declined, saying that he was not ready for that, and returned to Moscow. However, it turned out that he could no longer live in Moscow either. He needed to escape.
"I hated all of Moscow's hustling and fighting for a place in the sun. They get in the way of everything else."
Nastya, Sergei's wife, stands by the church doors, talking to a tourist from the Netherlands.
"Really, you're truly happy here? Well sure, maybe you could stay half a year here, a year tops – but staying here forever?" the tourist muses aloud.
Nastya smiles – neither her parents nor friends can fathom her decision, let alone passing tourists. Nastya had also studied in Paris and had always dreamt of making a career in the West. When Sergei suggested the idea of moving to Olkhon Island, it took her ages to find it on a map. When she found it, she rejected the idea flat out. Actually, back then, Baikal's only inhabited island did not even have electricity. But Sergei insisted. He was determined to leave Moscow, and he did not care where. He had already been to Olkhon, and he had liked it. As he says, "It has something in common with Mount Athos."
"Okay, so who moves to Siberia voluntarily?" Nastya asks rhetorically, remembering her original reaction to the idea of relocating to Lake Baikal. "I'd always thought that people flee from Siberia."
Even so, she packed a suitcase and followed her husband to the tiny village of Khuzhir – thus earning the nickname "Mrs. Decembrist" from her parents (The 'Decembrists' were Czarist-era political prisoners, sent to Siberia for attempting a coup in December 1825. Many were former officers and noblemen. Society expected their wives to divorce them, but, in fact, several followed their husbands into Siberian exile). Nastya got used to her new surroundings quickly – she learned how to milk a goat, grow cucumbers and tomatoes, had two children, and began to sing in the church choir.
"Do you know how I derive real pleasure? From walking barefoot through the grass, from the fact I can go on foot everywhere, from breathing the sea air every day. And also that I don't have to save my money for years and years to get an apartment in Moscow," says Nastya.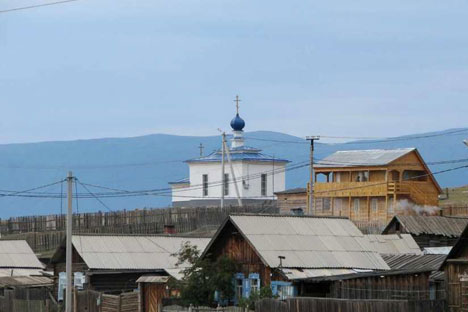 Sergei's wife packed a suitcase and followed her husband to the tiny village of Khuzhir. Source: Family archive
To brighten their lives and help travelLers in the process, Nastya and Sergei opened a hostel called Philoxenia – from the Greek word for "hospitality." The hostel is across the road from their house and just a few steps away from the church. Visitors from all over the world stay in the hostel all year round – for free.
Some of the visitors come specifically to see the peculiarities of Russian life. On the upper floor of the hostel there are two French visitors staying, having come all the way from Paris to Moscow by bike. In exchange for the free hospitality, they have offered to paint the church fence for free. Another guest from Israel is fixing something of Sergei's in the house, while a girl from St. Petersburg has clambered up the ladder to clean the church bells...
While Sergei is hauling buckets of water from barrels to the greenhouse, he tries to explain a few things about their income.
"Since I work as the verger, I'm entitled to receive a proportion of the church offerings, in payment for the work I do. Sometimes I supplement that by working as a guide. And there are very many good people who help us out. There were German visitors recently – I told them all about the church, and gave them an excursion. Later, they collected 800 Euros ($1,030) in their town in Germany, and sent it to me. D'you know how long you can live in Khuzhir on that kind of money? A long time!"
The peel of the church bell rings out over the village. Sergei drops his bucket, and runs to the bell-tower. There his son and daughter are playing their favourite game, seeing who can ring the bell the loudest. But the slightly rough sound does not bother people. On Olkhon, they are pretty laid back about things in general.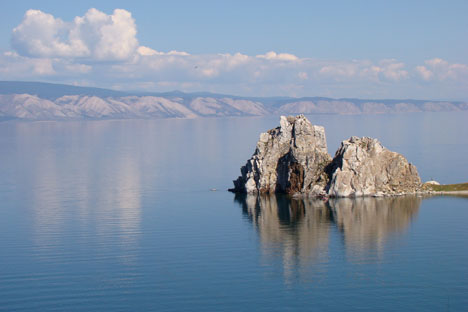 Baikal, the pearl of Siberia. Source: Cornelius Langenbruch
Philoxenia Hostel
Derzhavny Parish Church
1A Gorny pereulok, Khuzhir Village, Olkhonsky District, Irkutsk Region, 666137, Russia