Sharapova visits Delhi, enjoys dosas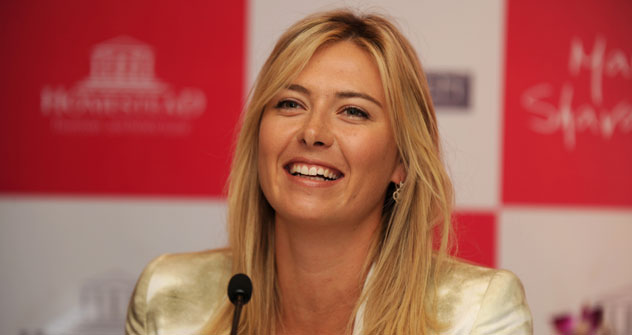 Maria Sharapova makes maiden visit to India to announce partnership with UK-based real estate firm. Source: AFP/East-News
Russian tennis sensation makes maiden visit to India to announce partnership with UK-based real estate firm.
Four-time grand slam winner Maria Sharapova visited New Delhi on Sunday, enthralling the Indian media and probably winning more fans in a country, where the tennis sensation is immensely popular.
"It feels amazing to be here. It has taken me so long to get to India," Sharapova said. "I have tremendous amount of fans in this country and it feels great to get such a warm welcome. It has been a remarkable year for me and now I have a nice little break which has allowed me to come here."
Every major media outlet in India covered Sharapova's brief visit to the country to announce her partnership with Homestead, a UK-based real estate company. The Times of India had a headline that read, "Maria Sharapova drops in, floors Delhi."
Sharapova won over the Indian public with her modesty when she shrugged off a remark on her beauty attributing it to her hair and make-up. When asked whether she had aspirations to act in Bollywood, India's booming Hindi film industry, the tennis sensation said, "I don't have the time to act in Bollywood. I barely had the time to come to India. In saying that, if I do have the time in future, I am not sure that I'll act in Bollywood because I have other interests."
Although, she didn't visit the Taj Mahal or other attractions in north India, Sharapova praised the energy of Delhi and wanted to do some Christmas shopping in the city. Her comments on Indian food also endeared the Olympic Silver Medalist to the Indian public. "I arrived last night and asked the chef what should I try of the Indian food. I had a dosa which tasted really nice. I wanted to have this great Indian experience. There is so much energy in the city, I have been in some quiet areas recently, resting. I really like the culture and people. You all have been really welcoming," Sharapova said.
Sharapova also reflected on a year where she won the French Open to complete the grand slam and went on to reach the final of the London Olympics.
"Winning the French Open this year was extra special, she was quoted by the Times of India as saying. "I was out injured for nearly a year. Coming back from such a situation gives a different perspective about how to get into winning positions and how hard it is to convert them."
All rights reserved by Rossiyskaya Gazeta.