A fantastically high scorer
Road to the NHL: From Togliatti to Montreal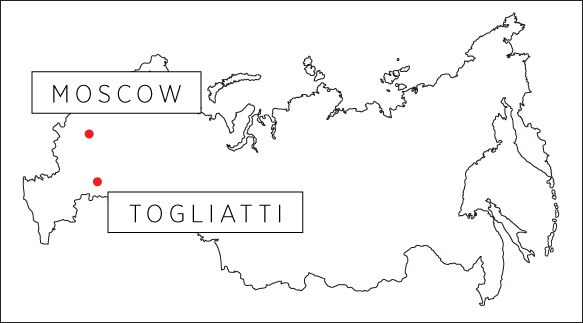 NICKNAME:
Fighter

His profile on Facebook
His page on Twitter
BORN April 25, 1986 in Togliatti, Russia
HEIGHT: 6 ft 2 in
WEIGHT: 223 lbs
CONTRACT FOR 2012/13 SEASON:
$2,000,000
CAREER IN NHL:
67 matches


3 goals

4 assists
CAREER: CSK VVS (Samara, Russia), Lada (Togliatti, Russia), Ak Bars (Kazan, Russia), Montreal Canadiens (NHL)
Alexei Emelin, like NHL veteran Ilya Bryzgalov, is a product of the Lada Hockey School in Togliatti. In 2003, he began playing for the Russian Superleague team CSK VVS (Samara), a partner club to Lada, to which he returned in 2004. Emelin was still young, but already known as a tough defenseman.
As soon as he joined a club from the Superleague, he was invited to become a member of Russia's junior (U18) national squad. Emelin accepted the invitation and won a gold medal at the Junior World Championships that same year.
In 2005 and 2006, now playing for the U20 national squad, he twice reached the finals of the U20 World Championships. Scouts in the West had already taken notice of Emelin. He was selected in the third round of the 2004 NHL Draft, 84th overall, by the Montreal Canadiens. Still, Emelin was in no rush to move to Canada. He went on playing for Lada. Lada, however, began to have financial problems because the management at the team's sponsor, AvtoVAZ, was gradually losing interest in sports — despite the fact that Lada had reached the Superleague finals in 2005.
During three seasons with Lada, Emelin played 110 matches and racked up 21 points (8 goals, 13 assists).
In the summer of 2007, Emelin could have joined the Montreal Canadiens. Instead he chose to remain in Russia with Ak Bars (Kazan) with which he won the Gagarin Cup in 2009 and 2010. Emelin did not participate in the decisive matches of the 2008/09 season playoffs, having been sidelined with a serious injury – In the quarterfinals, he got in a fight with Alexander Svitov of Avangard Omsk and broke his nose.
During the 2010/11 season, Emelin showed himself to be a fantastically high scorer. At the KHL Championships, he scored 11 goals, as many as he had made in all the previous years combined. Over four seasons with Ak Bars Kazan, Emelin played 253 matches in the Superleague and the KHL, racking up 55 points. After the fourth season Alexei began to think seriously about switching to the NHL, and in June 2011 he went to Canada.
In his own words
About his name
"In the NHL, they used to spell my last name with a Y: Yemelin. But I asked them to spell my name the way they do in Russia: Emelin. I play with the Russian team as 'Emelin'. I don't like to see my name spelled another way."
About arenas
"Actually, I don't experience any discomfort because of the size of the arenas. You've probably noticed that the speed here is higher that in the KHL, which may partly explain the reduced size of the arenas."
About the KHL
"I would not say that there's a huge difference between the KHL and the NHL. It's just that here, I guess, as compared to Russia, everything is set up differently — beginning with the organization and the infrastructure."
Famous for
Impressive power game
Emelin made his debut with the Montreal Canadiens in October 2011. The 25-year-old defenseman has played in 67 games this season and earned 7 points and one suspension. On Jan. 25, 2012 he scored his first NHL goal against the Detroit Red Wings. (Canadiens won: 7 to 2). Fans are impressed by Emelin's power game, but he says he has no intention of getting into fights with his opponents on the ice: "Not because I don't want to fight, but because that will create real problems for me. After the fight with Svitov, I wound up with a broken nose and eye socket. So I'm all done with fights."
As a member of the first-tier Russian ice hockey team Emelin has played in three World Championships. All three times they made it at least to the semifinals. At the World Championships from 2007-2011, Emelin played a total of 27 matches, scored two goals and made three assists.
Personal
Loves touring Cuba
Emelin has always liked technical players. His favorite hockey player is the NHL legend Mario Lemieux. He is not completely comfortable speaking English and is taking lessons with a tutor. He loves to travel. His favorite destination is Cuba. He is married, and in 2011 he became the father of a little girl.
All rights reserved by Rossiyskaya Gazeta.