Diwali marked across the length and breadth of Russia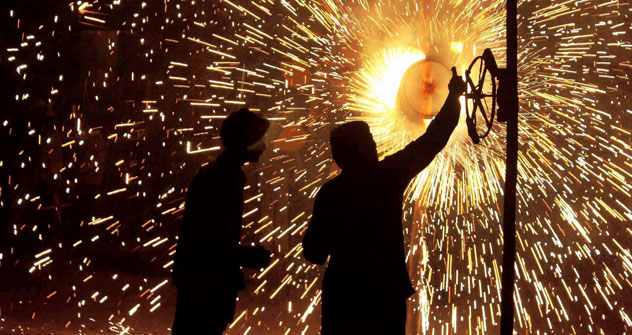 The Hindu Festival of Lights, Diwali. Source: AP
From St Petersburg to Vladivostok, special programmes are being held this month to mark the Hindu Festival of Lights.
Every year members of Russia's small Indian community organise a few programmes to celebrate Diwali, the Hindu Festival of Lights. The celebrations are not just restricted to Moscow but are spread across to remote corners of the country, with Russian people also joining in on the festivities.
Diwali celebrations in Russia kicked off in the city of Rostov-on-Don, where a few cultural programmes were held on November 1-3. The southern Russian city, which will host a few matches in the 2018 Football World Cup, has a community of Indian medical students, studying at the prestigious Rostov State Medical University.
Vladivostok will be celebrating Diwali on November 14 with a programme at the Indian Cultural centre of the Far Eastern State University. Professor Alexander Sokolovsky, who holds the Asia-Pacific Chair at the university's Institute of Oriental Studies, believes that such events help to develop and strengthen the friendship between the people of India and Russia as well as enhance diplomatic relations between the Russian Far East and India.
At the programme held on the day India marks Bhai-Dhuj (a festival celebrating the love between brothers and sisters), students and teachers of Indian languages and culture will recite poems and sing Indian songs. Diplomats from the Indian consulate will be present during the festivities. The festival will also be marked by the Indian community and Hare Krishna followers on the far eastern island of Sakhalin, where a small community of Indian expats work on some of the oil and gas projects.
St Petersburg's 2 Krishna temples are also conducting Diwali poojas.
Laxmi Pooja and Bhai-Dhuj usually remain private and family occasions in Moscow, which is believed to have around 10,000 Indians, many of whom have lived in the city for decades. "For me, Diwali is a family holiday," says Deshini Lakshman, who is a senior executive in a pharmaceutical firm. He also invites a handful of friends home for Diwali. "We decorated the apartment festively with lanterns and candles...We will also celebrate in our building compound with fireworks."
The city will host a special cultural programme on November 24-25. IndianDance.Biz, a Russian-language website that brings together lovers of Indian culture and dance will organise a series of folk dances featuring dance collectives and solo performers.
All rights reserved by Rossiyskaya Gazeta.