Indian Air Force looking to upgrade Sukhoi combat jet fleets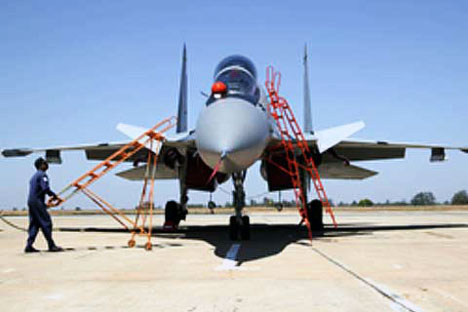 India plans to raise its eighth squadron of the Su-30 MKI planes in December this year. Source: Sukhoi.org
Talks are under with Russia for the upgrading of Su-30s, which would begin as early as 2015.
India is in talks with Russia to upgrade its fleet of Sukhoi Su-30s with a new radar and avionics to make the fighters more lethal than what they already are, IANS said, citing an unnamed official in the Indian Air Force (IAF). The upgrades are likely to begin in 2015.
The point of contention between the negotiators is the issue of India getting full access to all software and equipment design of the new systems that will be integrated on the upgraded planes, the agency cited a senior IAF officer as saying.
The Su-30s are among the most advanced fighter aircraft that the IAF has and is the frontline plane for all forms of airborne warfare, IANS said. "The modified Sukhoi will be an entirely new plane in terms of radar and avionics," the agency quoted the officer as saying. "We are currently holding a dialogue with Russia for full access to software and design of equipment to be integrated to the aircraft."
India plans to raise its eighth squadron of the Su-30 MKI planes in December this year. The squadron will be based in Sirsa in the state of Haryana, close to the Pakistan border. This will be the third Su-30 squadron of the IAF to be deployed close to the Pakistan border in 14 months, after Jodhpur in Rajasthan in October 2011 and Halwara in Punjab.
The Su-30 Family
The Su-30 is an entire family of aircraft and the most famous Russian-made (not to be confused with Soviet-made) fighter plane outside of Russia. It was developed in the Soviet Union on the basis of the Su-27UB combat trainer aircraft as a command plane for Air Defence air regiments flying ordinary Su-27 interceptor aircraft.
In 1993, its export version, the Su-30K, was developed, sparking record demand and the sale of several hundred planes.
The family is further subdivided into two parts: the "Chinese" Su-30MKK/MK2, which were produced in Komsomolsk-on-Amur and exported to Venezuela, Indonesia, Uganda, Vietnam, and of course China; and the "Indian" Su-30MKI, manufactured in Irkutsk and purchased by India, Algeria and Malaysia.
As a basic platform for the multirole heavy fighter aircraft, the Su-30MKI is remarkable primarily for its universality. It boasts a so-called "open architecture", making it relatively easy to add new systems in the basic electronic equipment and to use advanced guided weapons (supplied by different manufacturers).
The Su-30MKI sports a Russian radar and optic locator, French navigation and heads-up display systems, Israeli EW and weapon-guidance systems, and Indian computers.
All rights reserved by Rossiyskaya Gazeta.