Russia's Spirit DSP to enter Indian market with Reliance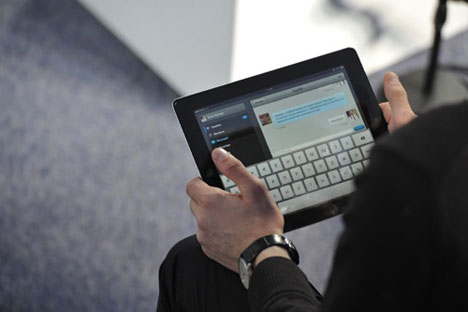 Founded in 1992, Spirit is a Russian company that develops and licenses VVoIP software engines. Source: Photoxpress
VVoIP engine of a Russian software company to power India's first 4G services, which will be provided Reliance-owned Infotel.
Moscow-based software firm Spirit DSP, a voice and video over IP (VVoIP) engines provider, is entering the Indian market in partnership with Infotel Broadband Services, a Reliance Industries-owned company that will launch its fourth generation (4G) technology-based broadband services in Mumbai, Delhi and Jamnagar.
Infotel will use an engine developed by Spirit for voice and video calls. The Mukesh Ambani-run Reliance Industries was keen to work with Spirit as global phone manufacturers have been dragging their feet on producing handsets with 4G voice and video functionality. The lack of VoLTE-ready mobile gadgets has forced the Indian company to implement a purely software-based solution. The SPIRIT engine will help ensure HD voice and video transmission between Android and iOS smartphones and tablets, as well as between Mac OS and Windows computers.
Telecom operators in dozens of countries have been increasingly active in implementing proprietary VVoIP solutions in an attempt to stop their customers switching to OTT (over the top) providers such as Skype and Viber. "The TeamSpirit software engine helps telecom operators use existing mobile devices by channelling voice and video packets via an LTE modem" a Spirit official said. The company refused to disclose the commercial terms of the deal. According to a source close to the negotiations, the value of the SPIRIT engine license could be in the region of $1–$10 million.
Founded in 1992, Spirit (Software Products Integrated Research International Transfer) is a Russian company that develops and licenses VVoIP software engines. Telecom operators, equipment manufacturers, software developers, web services and social networks serving more than 1 billion users in over 100 countries use the Spririt communications software platform. No financial data is available on the company.
Infotel Broadband is India's only 4G operator, having obtained the license at a 2010 auction for $2.74 billion. Reliance acquired Infotel in June 2010 for $907 million and is planning to launch its 4G network in the beginning of 2013.
"Spirit products have become a fixture all over the world in the most popular and demanding of segments – that of telecom network users," said CTI Deputy General Director for Business Development Aleksey Bugay. According to Bugay, telecom operators are unhappy about cash outflows from voice to data services. "One of the ideas that operators tend to explore in this situation is developing proprietary software for such communication, while blocking free third-party solutions that offer the same services. The most important thing for developers of such software is to make it of a reasonably high quality, and that's where Spirit products excel," he added.
But not all experts agree. On the one hand, it is a big success whenever Russian technology is in demand on an international level, said Comdi founder Dmitry Grin. "On the other hand, IT giants have created products that have become popular all over the world, where key technology is but a cog in the machine. No manufacturer advertises its products based on a specific codec. To achieve a fully fledged expansion in the global market, selling a specific technology is not enough; it's necessary to build a product based on that technology."
First published in Russian in Kommersant Daily.
All rights reserved by Rossiyskaya Gazeta.