Government to slash auto industry subsidies by two-thirds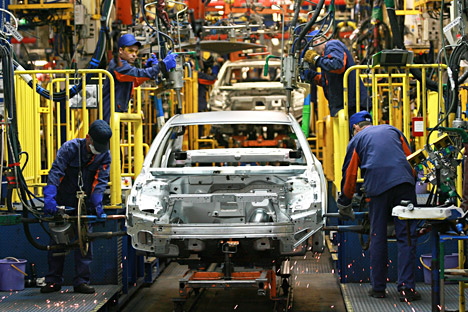 Analysts believe that the subsidy cuts have to do with the automobile industry's successful recovery from the crisis. Source: ITAR-TASS.
State support for Russian car manufacturers will shrink from 60 billion rubles ($1.8 billion) to 45 billion rubles ($1.4 billion) by 2020.
According to a Ministry of Industry and Trade brief prepared for the government, the volume of subsidies allocated in 2012 (3.9 billion rubles) are almost three times lower than the sum approved by the government in August of this year (9.8 billion rubles). Analysts attribute the cuts to the Ministry of Finance's desire to reduce already tight public spending, as well as to the fact that car manufacturers seem to have successfully emerged from the crisis.
The Ministry of Industry and Trade sent a brief to the Russian White House in late October that concerned the upcoming government meeting on the development of the automobile industry, following Russia's accession to the WTO. The document contained data on the amount of subsidies paid to Russian car manufacturers to partially offset interest expenses on loans (up to 90 percent of the Central Bank of Russia refinancing rate), as well as on anti-crisis loans obtained in 2009–2010.
According to the document, the subsidies should amount to 3.9 billion rubles in 2012, 4.8 billion rubles in 2013 and 5.6 billion rubles in 2014. Another 31 billion rubles has been earmarked for state support of the automobile industry between 2015 and 2020. The total amount of subsidies payable through 2020 has been estimated at more than 45 billion rubles.
Keep in mind that the government had already approved the substantially larger budget subsidies proposed by the Ministry of Industry and Trade; the Decree on Providing Subsidies to Russian Car Manufacturing Organizations was agreed upon on August13, 2012. The subsidies were supposed to reach 9.8 billion rubles in 2012, 7.6 billion rubles in 2013, 6.6 billion rubles in 2014 and 5.6 billion rubles in 2015.
The government had originally planned to allocate 29.6 billion rubles to the automobile industry between 2012 and 2015; that amount has now been cut by half. A total of 60 billion rubles was to be spent on state support of the industry by 2020. The year-by-year distribution of subsidies has changed as well; while the government planned to maximize spending in 2012–2013, subsidies are now expected to peak in 2014. As for the 31 billion rubles promised to car manufacturers through 2020, that money has yet to be appropriated from a budget that is outside of the current three-year cycle.
GAZ Group and Sollers have been the key recipients of public financial support in recent years. AvtoVAZ and the Renault-Nissan JV will hardly feel any impact of the reduction of the interest expense subsidies because, in the crisis years of 2009–2010, both companies obtained interest-free loans from Russian Technologies that were later rolled over.
"The subsidies are agreed with car manufacturers, and the reductions reflect the actual situation in the automobile industry. We update our capital expenditures program about five times a year. The Ministry of Industry and Trade keeps track of this very thoroughly and redirects any unused funds to other purposes," Russian Machines Corporation spokesperson, Yelena Matveyeva, told Izvestia.
Analysts believe that the subsidy cuts have to do with the automobile industry's successful recovery from the crisis. "State support has been revised to reflect applications for loan interest subsidies filed by car manufacturers. They may have spent the money only partially if their interest payments were lower than the subsidies allocated for this purpose. They have enough cash for their existing capex programs, and the subsidies will be received in full," VTB Capital analyst Vladimir Bespalov said.
"Car manufacturers are unlikely to waive subsidies on their own. With the current budgetary tensions, the Ministry of Finance is looking for industries where it can cut subsidies. They think spending on the automotive industry can be reduced, and they may be right. While the debt load on domestic car manufacturers is still high, the debt-to-income ratios allow these companies to honor their debts and invest in production at the same time. That's why state support has been decreasing," Sberbank Investment Research analyst, Mikhail Ganelin, said.
Besides cutting subsidies to automobile manufacturers, the Ministry of Industry and Trade has also revised its retail automobile loan funding program. The program, which used to partially subsidize interest rates charged by banks on auto loans issued to individuals, was discontinued last year, with payments to banks scheduled to last through 2014.
The Ministry of Industry and Trade has cut payments to credit institutions from the originally earmarked 6.4 billion rubles to 6.1 billion rubles. Automobile loan subsidies have been cut from 3.3 billion rubles to 3.2 billion rubles this year and from 2.1 billion rubles to 1.7 billion rubles for next year. Payments in 2014, however, are expected to increase from 1 billion rubles to 1.2 billion rubles. Analysts believe the cuts to state support in this area have been caused by the willingness and ability of buyers to repay their loans ahead of schedule.
The Ministry of Finance must also believe that, following the WTO accession and the introduction of the utilization levy, Russians will be forced to buy new domestic cars even without subsidized auto loan rates.


First published in Russian in Izvestia.
All rights reserved by Rossiyskaya Gazeta.