Cars in Russia are more than just mere vehicles. They are about status, personality and self-expression.
First, it has to be beautiful. The fashion for interior improvements has been changing with the times. Soviet car owners used to appreciate such accessories as the fur-covered steering wheel, the Plexiglas gear knob with a rose in the center, and flags of the world on the windshield. In the 1990s, the trendy features came to include a lifted rear-end, dark-tinted windows and crown-shaped air fresheners on the dashboard. Today, instead of the lifted rear axle, it is easy to spot low-riders and mock exhaust pipes. Fans of car improvements establish communities and share best practices and success stories.
Eduard is the proud owner of a '11 Lada Priora and a member of the Caucasian Tuned Cars club. Caucasian-style tuning is nothing without a super low ride, tinting, an audio system and an interior refined to taste. "Most importantly, your car should be easily seen and heard from a distance, to make everyone stare," Eduard says. "Guys prefer the Lada Priora as the latest AvtoVAZ model, but they rebuild older Ladas as well. The key thing is to lower your ride as much as possible."
And, of course, rides can be lowered virtually for peanuts: just 1,000 rubles ($30) to cut a couple of coils off the rear spring. This is the easiest way, but owners can also install short-stroke absorbers or air suspension. Naturally, these modifications are more costly.
Eduard says that Caucasian-style tuning has long moved beyond territorial or ethnic identity: "There are lots of Russian guys in our club. Many people like this style. We don't drive Prioras because we can't afford imported cars. I think a modified Priora looks much better than a regular foreign car."
Denis from Kaluga, guided by supercar specifications, is improving his '07 Lada 21014: "I built the car to make a showstopper specifically for exhibitions. First, we bought a plastic body kit and hood, then we installed the Lambo doors. There are no specialists in Kaluga that make the Lambo doors, so I turned to my friend and he did it all in his garage."
The car features sports-style suspension, sports transmission and a modified brake system. Its exhaust pipe looks particularly menacing: the exhaust is standard, but a large-diameter pipe was attached to make it look even sportier. There is also another exhaust pipe on the right – it is a pure fake, not connected to the exhaust manifold and installed for symmetry only. The ride was lowered, but now parking sensors keep beeping every time the car goes in reverse: the sensors see the ground as a barrier.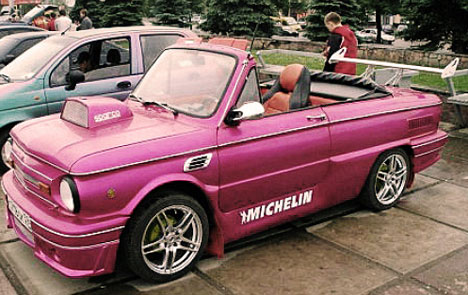 Click to view more Russian tuned cars. Source: Press Photo
There are deep scratches on the sides of the hood; these are the consequences of attempts to open the hood with the Lambo doors open. When raised, the doors split the doorway in half at an angle of 45 degrees. One has to be very limber to exit the vehicle, especially given the deep bucket seats.
Denis has played around with his Lada enough, and now he wants a real supercar. To make his dream come true, Denis bought a '02 Toyota MRS in a right-hand-drive model made exclusively for the Japanese market. He had only to update its condition. "It has a screw-type suspension, which allows you to adjust ride height. Struts on the frame provide greater driving stability," Denis says. The car has a custom body kit, footboards, Recaro seats, a Momo steering wheel and gearshift knob, and 17" forged alloy wheels.
Denis says a real supercar may be his next project. "Many people say that if you want to drive a Ferrari or a Porsche, buy an MRS first, to learn how to drive. Their driving style is very similar. It is also a rear-engine model, and the center of gravity is about in the middle of the car." The Ferrari logo sticker on the dashboard clearly confirms the ambitions of the owner.
Oleg Yefremov lives near Moscow. He also built his car to astonish everyone around him. However, for his experiments he chose an old '84 Lada 2101, which is a copy of the Italian Fiat designed in the 1960s. Initially, when he bought the car, it came with a "non-native" 1.7-liter engine. After a cylinder bore and improvements, its displacement increased to 1.8 liters. No one can tell the true mileage of the car because its odometer has been replaced.
"I have installed a Mazda 3 xenon lens, an enlarged radiator, a Nissan Primera radiator fan, disc brakes, hydraulic hand-brake, an Audi A8 brake master cylinder and a microprocessor ignition system. I also installed a short-stroke gearshift lever, additional gauges: ammeter, voltmeter, intake manifold vacuum gauge," Oleg says. The driver's seat is a Sparco, but the passenger's seat is a Honda Prelude seat. The steering wheel is removable and anyone can easily take it off –it is a great anti-theft system. The Mazda 3 xenon headlights are covered with round polycarbonate lenses. The right headlight is a little bit fused and Oleg plans replace it with a new one: "I bought a square meter of polycarbonate, I can cut as many lenses as necessary."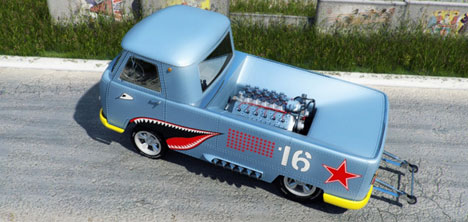 Click to view more Russian tuned cars. Source: Press Photo
Yury is from Moscow. Just like Oleg and Denis, he is also a member of the Lada Cars Club. He is currently rebuilding a '03 Lada 2107. The first impression one receives when looking under the hood of his car is that something is missing. Only the engine and the expansion tank with the coolant are visible.
"You know, I just rearranged the components: the battery is now in the trunk, and I completely removed the washing fluid tank. If necessary, I can wipe the windshield with a cloth. Here is a 16-valve Lada Priora block, a 4-throttle Toyota Levin intake and a Volvo C90 injection system. On top of the engine you can see the so-called megaphones or pipes for air intake. I had to cut out a hole in the hood, so that air could flow in. Next, I'm going to fix a hump on the hood."
Yuri built this car to learn drifting, so it is packaged with wide front tires, stiffer shock absorbers, bucket seats, four-point seat belts, power-steering and reinforced sport frame. Its exterior is virtually no different from the exterior of a regular Lada; only a hole in the hood and the proud panted man on the car exclaiming "Fuck Yeah" suggest that there is something more than just a Lada here.
Lada owners say domestic cars are a good platform for experimentation. They are inexpensive, and all issues can be fixed with a spanner, a hammer and a grinder. What comes as a result may seem ridiculous, but, in fact, it is the fruit of sleepless nights and hard work – a piece of art, an expression of Russian ideas about beauty.