Klitschko aims to keep boxing titles all in the family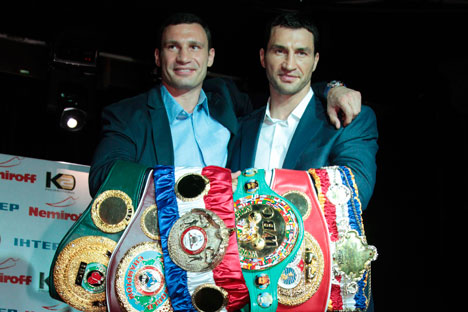 Vitaly and Wladimir Klitschko. Source: RIA Novosti.
On Nov. 10, Ukrainian boxer Wladimir Klitschko once again defended his numerous super heavyweight titles, this time defeating Mariusz "the Viking" Wach of Poland. Despite being in a semi-unconscious state at the end of the fight, Wach managed to walk away unassisted. Klitschko's team must now choose whom to fight next; there is not much of a choice, though. Both candidates are Russian: Alexander Povetkin and Denis Boytsov.
Alexander Povetkin and Denis Boytsov were easily the most attentive spectators during Saturday's fight, yet neither of them could imagine themselves in Wach's shoes. Before the bout against Wladimir Klitschko, Wach had not lost a single fight and had won seven fights in a row by knockout – though none of his opponents were real top fliers.
The Pole was even taller than the Ukrainian champion, who had never before fought someone taller than himself. But Wach, with his poor technique and clumsy footwork, did not have a chance. In fact, Klitschko's titles were not under any real threat in Hamburg, and bets on the match were about how long "the Viking" would last in the ring.
Wach fought until the final bell and even managed to land a straight right in the fifth round, throwing Klitschko on to the ropes. But Wach clearly lacked the skill and time (the straight right landed ten seconds before the end of the round) to land another blow.
Throughout the rest of the fight, the champion was very much in charge. He delivered blow after blow, and most of them hit home. The Pole, whose style is similar to that of Nikolai Valuyev, left the ring on his own feet with 600,000 euros ($764,160) in prize money. Klitschko, who clearly looked tired after hitting "a brick wall," collected 5 million euros (about $6.4 million).
After the fight, Wladimir said he was amazed by his rival's stamina. Yet words count for little after such a fight. Whom Klitschko will fight next is a much more intriguing question. There are currently two candidates, both of whom are Russian.
Click here to enlarge the image.
Klitschko is currently under obligation to the World Boxing Association (WBA) of which he is super-champion. Under the obligation, he must fight the regular champion Alexander Povetkin before Mar. 1 of next year. Klitschko's voluntary defenses have ended and he will have to face Povetkin if he does not want to forfeit his title.
There is, however, a loophole in the rules that would allow Klitschko, as a super-champion, to fight another man with the contender's consent. Povetkin's team is likely to give its consent, hoping this might give the Russian extra time to build up form.
The second candidate to fight Wladimir Klitschko is Denis Boytsov. The fight is unlikely to be interesting, as the short-statured Russian has nothing with which to trump Klitschko. But Boytsov, who has yet to lose a fight in his career, is number three in the World Boxing Council (WBC) rating, while Vitali Klitschko is the number one. Wladimir's elder brother has no time for boxing. His fights have now moved to the political ring and everyone expects the leader of the political party Udar (Punch) to announce the end of his sporting career. His WBC title would then be up for grabs.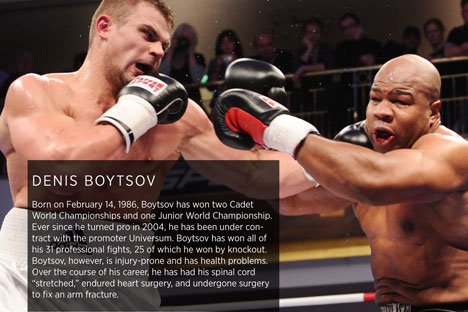 Click here to enlarge the image.
In the event that the elder Klitschko does retire, the WBC will set up two selection fights. One of these will certainly pit Mexican-American Chris Arreola against Canada's Bermane Stiverne. The other might be between Boytsov and the giant Briton Tyson Fury. Even so, the company Universum, which represents Boytsov's interests, turned down the fight. Boytsov's promoter Waldemar Kluch explained that the boxer is in poor condition due to a bad fracture in his right hand.
Three days later, however, Kluch dropped a bombshell, announcing that he had set up a fight between Boytsov and Wladimir Klitschko. The match will be a WBC selection fight that does not threaten the Ukrainian's titles. It is a safe bet that the younger Klitschko will use the slightest opportunity to win his brother's belt and keep the full collection of top prizes in the family.
First published in Russian in Moskovskie Novosti.
All rights reserved by Rossiyskaya Gazeta.