One of the best goalkeepers in the world
Road to the NHL: From Yekaterinburg to Edmonton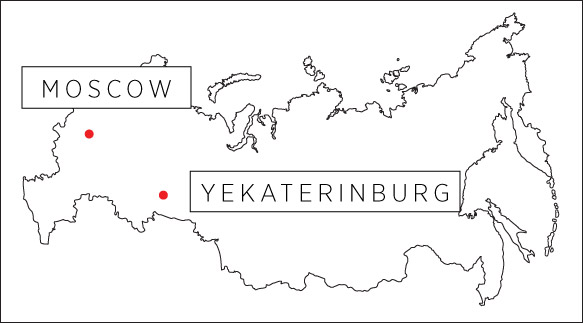 NICKNAME:
The Bulin Wall
BORN Jan. 13, 1973 in Sverdlovsk (now Yekaterinburg), Russia
HEIGHT: 6 ft 1 in
WEIGHT: 206 lbs
CONTRACT FOR 2012/13 SEASON:
$3,750,000
CAREER IN NHL:
783 matches


328 wins

90.7 % save percentage
CAREER: Avtomobilist (Sverdlovsk), Sputnik, CSKA Moscow, SKA (Serov), Springfield (AHL), Winnipeg Jets (NHL), Phoenix Coyotes (NHL), Long Beach Ice Dogs (IHL), Tampa Bay Lightning (NHL), Ak Bars (Kazan, Russia), Chicago Blackhawks (NHL), Edmonton Oilers (NHL)
At 15, Khabibulin was already a member of the Avtomobilist (Sverdlovsk) team. He was noticed by CSKA scouts, and two years later he moved to Moscow.
During the 1991/92 season, Khabibulin played only two matches for CSKA.
But he played starting goaltender at the World Junior Championships and won gold, after which he was invited to join the CIS Olympic team.
Khabibulin was the third goaltender (after Mikhail Shtalenkov and Andrei Trefilov) and did not play a single match. But he earned a gold medal, which Russian coach Viktor Tikhonov then kept for himself. (There weren't enough medals for everyone on the team.)
This incident was laid to rest only 10 years later when, as one of the best goaltenders in the world, Nikolai Khabibulin was invited to the 2002 Winter Olympics.
Khabibulin agreed to attend on condition that his gold medal from Albertville was returned to him.
The award was delivered the player by the team's head coach Vycheslav Fetisov.
For the 1993/94 season Khabibulin went as goaltender to the Russian Penguins (a joint project of CSKA and Pittsburgh).
Famous for
Being the world's highest paid goaltender
Within just a few years, Khabibulin was famous as the first Russian to be a starting goaltender in an NHL club. He played 53 matches for the Winnipeg Jets. After the 1995/96 season, the Jets moved to Arizona and became the Phoenix Coyotes.
Khabibulin was also the first Russian goalie to go on strike in the NHL. In 1999, he calculated that he was being paid too little and refused to fulfill the terms of his Phoenix contract. During his 18-month hiatus from the NHL, Khabibulin played for such exotic clubs as the Long Beach Ice Dogs (IHL). In the end, Phoenix traded its refractory goaltender to Tampa, where he got the money he wanted.
Khabibulin is also the first Russian goaltender ever to win the Stanley Cup. The seventh game in the 2004 Stanley Cup finals against Calgary (2:1) was the crowning glory of Khabibulin's career.
In his own words
About Belarus
"In the last few years I've spent more time in Minsk than in Yekaterinburg. My wife was born there, and my daughter is taking tennis lessons there. When we were putting the schedule together, I wrote: Minsk. And it was confirmed."
About conflicts
"I regret that because of my dispute with Phoenix, I lost almost two years of my life in world sports. But I'm sure that I was absolutely right. I proved that legionaries from Europe must be taken seriously."
About his attitude
"One day I said to myself: 'Don't look too far ahead. Enjoy the fact that you're playing in the NHL right now. And live every day as if it were your last.'"
Khabibulin ultimately became the highest paid goaltender in the world. After the lockout and upsets with Ak Bars (Kazan's Dream Team was knocked out in the first round of the Superleague playoffs), Nikolai signed a four-year contract with the Chicago Blackhawks for $27 million.
His career took a temporary turn for the worse due to a serious back injury. But when Khabibulin had served out his contract, he was able to prove himself and signed another four-year contract, this time with the Edmonton Oilers for $15 million. Even at 38, the Bulin Wall still leaves fans gasping in the stands even if the consistency of this veteran, who all his life has called Tretyak his idol, is now somewhat less than it was.
Personal
An avid tennis fan
Khabibulin loves tennis, a game he was introduced to by his wife Viktoria — in her youth she played with Natalia Zvereva. Since 2004, Khabibulin has been helping Belarusian tennis star Viktoria Azarenko, who crushed Maria Sharapova in the finals of the Australian Open (6:3, 6:0) and is now at the top of the women's tennis ratings. Khabibulin has often attended her tournaments.
Khabibulin drives a Ferrari. In February 2010, he was pulled over by a police officer for speeding and driving under the influence of alcohol. He was sentenced to 30 days in jail, half of which he served behind bars.
All rights reserved by Rossiyskaya Gazeta.