Gorbachev releases his new book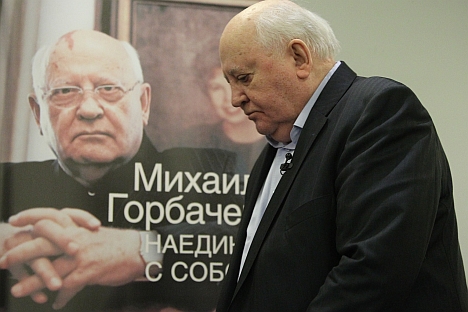 Former Soviet President Mikhail Gorbachev giving autographs during the presentation of his new book - "Alone with myself." Source: Rossiyaskaya Gazeta / Viktor Vasenin
Mikhail Gorbachev is still churning out books at the ripe old age of 81. The latest offering from the first and only President of the Soviet Union is "Alone with Myself," which he worked on for more than five years.
The book was launched at an open signing session in a big Moscow bookshop. Many of those who showed up anxious to get an autograph from the former President had to be turned away from the store, which was at full capacity long before the event began.
Writing the book was not easy, Gorbachev admitted. "It's hard. The hardest thing is to write about your life sincerely and frankly," he said. "I dedicated the book to my wife. She used to say: If you can, if you have the strength, it would be great if you wrote this book."
Gorbachev said that his wife, Raisa, had been planning to write a book herself, "about their life together, and about the people." She had even started to work on it. "There is a plan of the book with the words, 'What the heart aches for,' written in red ink on the title page," Gorbachev said.
But grave illness prevented Raisa from writing her book. She died in 1999.
"After what happened, I decided to write a book that was more personal; I wanted to include a lot of detail about my life with Raisa. She would have written a different book, of course. But this is my book, and that's why there's still a lot of politics in it," Gorbachev said.
"Alone with Myself" is a book of reminiscences and reflections. It is about the journey of life, successes and failures, family, and love. The Gorbachevs were the model of an ideal marriage to all those who knew them. The simplicity and warmth with which the author writes about his feelings are striking.
Even his discussion of politics has a very personal ring to it. When he talks about the most difficult moments in his family life – his apprehension about becoming a father, Raisa's first abortion, illness and the grief of losing a loved one – he is so open and sincere that readers cannot help but feel a little uncomfortable, as if they were listening to a confession of sorts.
"The bell first tolled in Foros, where we were interned and isolated from the external world on 18 August 1991. Raisa suffered either a serious cerebral angiospasm or a mini stroke there […] I remember the look in her eyes at the time (I can still see them now): There was fear and pleading in them," Gorbachev wrote.
"I am haunted by a sense of guilt over Raisa's death. I try to reconstruct it in my memory: Why couldn't I save her?"
Having left the Kremlin almost a quarter of a century ago, Gorbachev is still the head of the Foundation for Socio-Economic and Political Studies that bears his name. He is active in international organizations and engages in charitable activities.
The six years Gorbachev was in power, between 1985 and 1991, transformed the country. His policies of glasnost and perestroika triggered more than internal political change: the Cold War ended, the Soviet-American dialogue on nuclear disarmament resumed, and Germany was reunified.
Gorbachev is one of the few Russian politicians to have remained a full-fledged member of the informal club of world leaders following his fall from power. People still listen to and respect the views of the Nobel Peace Prize winner; he still has something to tell.
Gorbachev was born in 1931 to a peasant family in the village of Privolnoye in Stavropol Region. Both his grandfathers were victimized under Soviet rule. He entered the faculty of philosophy at Moscow State University in 1950 and, in 1955, started work at the Young Communist League of Stavropol Region.
Gorbachev usually dictates his books. Afterward, as his aides attest, he edits them thoroughly and makes numerous additions. His first book, written in 1987, was titled "Perestroika: New Thinking for this Country and the Whole World." "Life and Reform" came out in 1995, followed by "How it Happened: The Unification of Germany and Understanding Perestroika."
"Alone with Myself" is nearly 700 pages. According to Vesti, The Gorbachev Foundation hopes that the book will be translated into foreign languages.
Article based on materials from Rossiyskaya Gazeta and Vesti.
All rights reserved by Rossiyskaya Gazeta.