Ford Sollers deals with labor dispute in Russia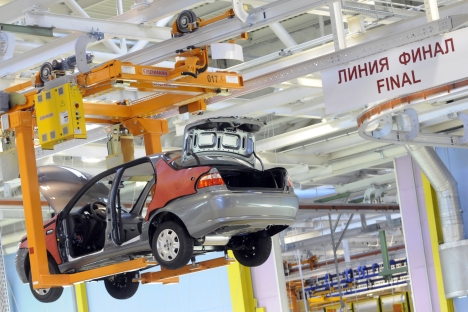 This week one of the Ford Sollers factories, that produces the Ford Focus and Mondeo models, resumed its production after last week's suspension. Source: ITAR-TASS
Workers announced a work-to-rule and decided to have a Donor Day on Nov. 16, but management halted the production line ‒ allegedly due to a lack of parts.
Ford Sollers announced a stoppage at its plant in Vsevolzhsk, Leningrad Region, on Nov. 16-17. Events hinged on all three shifts of employees not turning up for work, company spokesperson Sergei Kirillov explained. Kirillov stated that the forced stoppage was caused by a shortage of parts. However, the plant resumed normal operations on Nov. 19.
The factory produces the Ford Focus and Mondeo models. "Earlier in the week, a difficulty emerged with the delivery of parts for the Ford Mondeo," said Kirillov. "That's why we shifted the production line over to manufacturing the Focus instead. However, suppliers turned out to be unprepared for the change in delivery dates."
"Parts for the Mondeo are manufactured in Ford's Belgian plant in Genk, where there's an ongoing strike against the planned closure of the enterprise," said Aleksei Yetmanov, general director of Interregional Union of Autoworkers (MPRA) and former trade union leader at Vsevolzhsk.
However, the union at the factory has a different explanation for the production line being halted. A work-to-rule action had been going on at the plant from the beginning of the week, MPRA representative Aleksander Kashitsyn told Vedemosti. The union planned on having a Donor's Day, which involves a large number of employees taking time off to give blood. The plant's management had prior knowledge of this and stopped production on this date for this reason, according to Kashitsyn.
"It's a creative response – this sort of thing hasn't been seen in Russia before," said Aleksander Karpukhin, a partner at Orient Partner law firm. "It's true that organizing large-scale actions isn't easy. People might refuse to give blood on medical grounds, for example."
Karpukhin confirmed that employees get two days off when they donate blood. In addition, donors are not obliged to tell their employer of their intention to give blood. "They do, however, have to present a donor certificate to their employer afterwards," said Karpukhin. "Even so, the employees had, in any case, mentioned their intention to give blood, in order not to jeopardize their relationship with their employer."
Kirillov denied that there was a work-to-rule action going on at the plant. Another Ford Sollers representative, Natalya Ryadinskaya, said that management had no details of a planned Donor's Day.
Kashitsyn confirmed that the trade union leadership had not officially informed management of the action in advance. However, on Nov. 6, workers had been given leaflets with full details of the strike and the Donor's Day. "Management knew of the plans," said Kashitsyn.
"Yetmanov didn't know about the Donor's Day. But he knows that the Union at the Ford plant was planning a work-to-rule action." Kashitsyn had no details of how many people planned to take part in the Donor's Day. "Everyone who planned to take part in the action informed his personal line manager," he said.
"There are two grounds for discontent," said Kashitsyn. "Recently, it became known that, due to the early fulfillment of the annual production quota, the production line might be stopped on the 17th of December, instead of on the 30th of December. Management told the department heads that, if this went ahead, the staff would be sent home on compulsory leave, on two-thirds of their salaries," Kashitsyn said.
Kirillov's reply to this was that no decision regarding these issues has been made yet.
"In addition to this, management is trying to cut the number of absentees at work, including 'permanent donors,'" said Kashitsyn. "They've stopped giving leave and delay signing agreements for leave."
The factory's output is down 11 percent due to the three-day strike, said one of the company's staff. Ryadinskaya claims that the output figures have not changed. Oleg Datskiv, director of the auto-dealer.ru car industry portal, believes that the production line stoppage might prove beneficial for the company.
"The rate of growth in the Russian car market is stalling, and competition – especially from crisis-hit Europe – is growing more intense," Datskiv said. "Judging from everything, it looks like the company is trying to avoid stockpiling cars."
First published in Russian in Vedomosti.ru
All rights reserved by Rossiyskaya Gazeta.