Kirilenko in the running for an NBA All-Star spot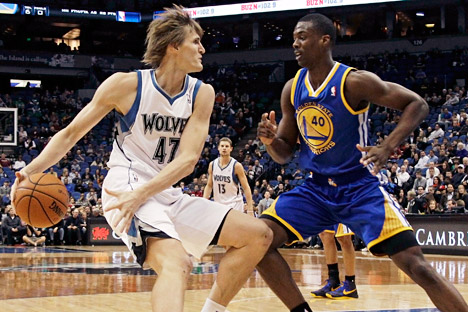 Minnesota Timberwolves' Andrei Kirilenko, left, of Russia, drives around Golden State Warriors' Harrison Barnes in the first half of an NBA basketball game on Friday, Nov. 16, 2012, in Minneapolis. Source: AP
Minnesota Timberwolves forward Andrei Kirilenko, the best-known Russian player in the league, is eligible to take part in the 62nd NBA All-Star Game scheduled to take place in Houston on Feb. 17. He has been included in a pool of 120 players who will compete for fans' votes through Jan. 14.
Last week the National Basketball Association (NBA) proudly announced the commencement of voting to determine which players will go to the 62nd NBA All-Star Game — one of the most spectacular and expensive sporting events in the world to be broadcast in 220 countries.
In a bid to stay relevant, basketball executives offered fans the opportunity to vote not only on the official NBA website but also via social media networks, including Facebook and Twitter, and Sina Weibo and Tencent QQ in China.
Fans have a pool of 120 players to choose from — 60 players each from the Eastern and Western Conferences (24 guards and 36 forwards and centers). Fans will be able to fill in one ballot per day on the NBA Facebook page, with their choice of two guards, three forwards and one center from each of the two Conferences. Twitter users will only be able to vote for one player per day. Less tech-savvy fans will be able to vote by sending text messages via the NBA website.
The votes will be counted on Jan. 14, and the starters for the All-Star teams will be announced live on TNT during a special pregame show.
Russian fans have a candidate of their own this year: Minnesota Timberwolves forward Andrei Kirilenko, who was an All-Star in 2003-04 with the Utah Jazz. There is reason to believe that he will be able to make it onto the All-Star team once again.
Kirilenko is probably Minnesota's best player so far this season, playing solid ball every time he hits the court. Minnesota has no one else on which to fall back, now that Kevin Love, Ricky Rubio and Nikola Pekovic are injured (the three also represent the Timberwolves on the All-Star ballot). Thus, Kirilenko stands a good chance of shaking off his competitors.
The Minnesota Timberwolves have won five games out of seven to start the season, and due credit should be given to Kirilenko. He not only cements the team's defense by guessing all of his opponents' moves, but also scores well consistently. Kirilenko is averaging 11.9 points, 8.1 rebounds and 3.9 assists per game. More importantly, he registers a +20.57 efficiency average. All this is to say that Minnesota does not lose when Kirilenko is on the court.
All rights reserved by Rossiyskaya Gazeta.