Russia needs to re-orbit its space diplomacy with South Korea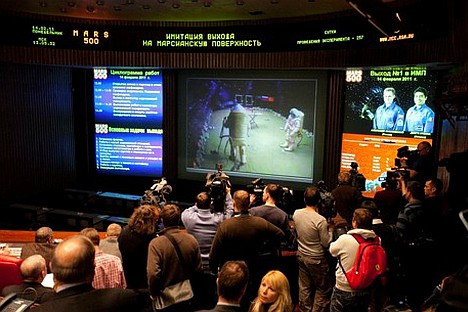 Russia needs to re-orbit its space diplomacy with South Korea. Source: IMPB / Oleg Voloshin
South Korea is a late entrant into space technology and needs Russian help to join an elite club of nations which already has such Asian powers as India, Japan and China.
On November 13, South Korea sent an SOS to Russia to send rocket parts as soon as possible for its already-delayed satellite launch. Russia needs to seize this moment here and now. This is virtually a post-dated cheque from the South Koreans that the Russians can encash now. Moscow needs to re-orbit its space diplomacy with Seoul.
Earlier this month, I spent a week in South Korea as part of the India-South Korea Media Exchange Programme. During this period I got an opportunity to interact with several officials from such diverse fields as the foreign office, think tanks, various ministries and journalists apart from the man on the street.
During my interactions with my South Korean interlocutors and others I found that the South Koreans are most apprehensive about Japan, which colonised Korea for 35 years from 1910 to 1945. I also felt that the Koreans are not as apprehensive about China and Russia. The latter's role is important because it was the then Soviet Union that divided Korea and created North Korea after the Second World War.
I put a blunt question to a senior South Korean diplomat: why doesn't Seoul mend relations with Russia and Japan to develop a strategic counter weight to China's rise which has been rather difficult to the South Koreans as well. The South Korean diplomat's prognosis was an eye-opener. The South Koreans do not believe that China is an adversary; and even if China were to adopt an aggressive approach against South Korea the United States is there to defend Seoul.
Scope for Russia-South Korea Ties
Most South Koreans still look at Japan as a foe. But when it comes to Russia, they are more relaxed but cautious. There are several historical reasons for this. One reason is that Russia and South Korea do not have a border dispute. The Russian-Korean border is just 17 km long and that is between Russia and North Korea.
Moreover, the single biggest foreign threat and foreign policy challenge for the South Koreans are North Korea-specific. It was quite a lesson for me that the South Koreans do not look upon China as an inimical nation. One, the US is there after all to take care of the South Koreans in view if a security treaty between South Korea and the US. Two, the South Koreans do not believe that China is behind North Korea's nuclear programme.
In such a scenario, the only neighbouring nation the South Koreans can afford to cosy up to is Russia – not Japan. Thus Russia is a country that the South Koreans would be much more comfortable in doing business with, rather than Japan. Therefore, it would be in Russia's interest to send feelers to the South Koreans and Seoul should be in a much better position to reciprocate. South Korean budding space programme affords a good diplomatic opportunity for the Russians.
South Korea's Space Programme
South Korea was forced to cancel the October 26 rocket launch because of a technical snag. Seoul's SOS to Moscow was aimed at trying to send the satellite into space by November 24. However, delay on part of the Russians to do the needful forced South Korea to defer its rocket launch towards the end of this month.
Russia needs to capitalise on this opportunity and go for broader diplomatic gains vis-a-vis South Korea because the 140-tonne Korea Space Launch Vehicle-1 (KSLV-1) has a first stage manufactured by Russia. South Korea is a late entrant into space technology and needs Russian help to join an elite club of nations which already has such Asian powers as India, Japan and China.
South Korea is trying hard to join this elite club and has indigenously built a solid-fuel second stage of the rocket that Seoul wants to launch later this month. The proposed rocket launch, which has met two failures in 2009 and 2010, ironically triggered irritants in Moscow-Seoul ties instead of deepening the relations. The rocket exploded in the air just two minutes after its launch in 2010 and Russia and South Korea blamed each other for the fiasco.
Russia stands to gain immensely from South Korea's space programme, not just diplomatically but also economically. Seoul has already poured $474 billion into its space program and is poised to pledge billions more. After the pending rocket launch is successfully done South Korea has ambitious plans for getting on to next phase wherein it plans to put into space new types of rockets carrying heavier satellites.
The Road Ahead
Russia and South Korea have had a vibrant relationship, though they have not been able to tap full potential of their synergy. Politically, Russia and South Korea are participants in the Six-party talks on the contentious issue of North Korea's nuclear proliferation. The official residences of presidents of Russia and South Korea are connected through a hot line since 1997. There have been regular visits of defence officials and naval vessels between the two countries in the past two decades.
Moscow and Seoul are also jointly working on construction of a bilateral industrial complex in the Nakhodka Free Economic Area in Russia's Far East and gas-fields development in Irkutsk. Russia has offered to repay its $1.7 billion debt to South Korea through joint investments in North Korea, such as the railroad project which aims at linking the Korean railroad to the Trans-Siberian Railroad. This promises to be a game changer for both the sides as Russia can become a conduit for South Korean exports to Europe by linking the Korean railroad to the TSR. Presently the South Korean trade to Europe is through the sea route.
The writer is a New Delhi-based journalist-author and strategic analyst.
All rights reserved by Rossiyskaya Gazeta.