Sukhoi's Superjet ready for takeoff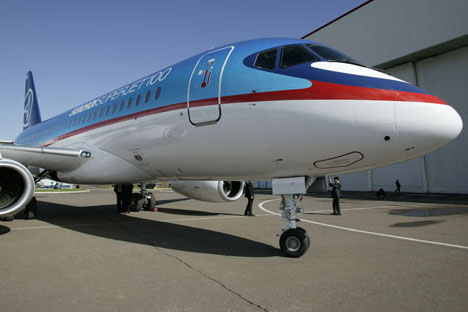 The SSJ-100 is the most ambitious project of the Russian aerospace industry in recent years. Source: RIA Novosti
Analysts believe the SSJ-100 is perfectly positioned to win orders in the Southeast Asia market, where it has no rivals.
Sukhoi Civil Aircraft (SCA) is gearing up to meet growing demand for its planes in Asia with the company having contracts for the delivery of 45 Sukhoi Superjet 100 (SSJ-100) aircraft in the ASEAN region.
Indonesia's Sky Aviation has ordered 12 for delivery this year, while other airlines in the region will receive about 30 next year, SCA senior vice-president Igor Syrtsov said at a recent aerospace show in China.
Mikhail Pogosyan, president of SCA's parent company, United Aircraft Corporation, says the company is counting on Chinese orders. "I think we will sign preliminary documents on potential deliveries to China in the first half of next year. We will then announce the companies we are in talks with now," he says.
Pogosyan says its assembly plant at Komsomolsk-na-Amure will help with deliveries to China. Analysts believe the SSJ-100 is perfectly positioned to win orders in the Southeast Asia market, where it has no rivals. Its closest competitor, the Chinese-made medium-haul ARJ, won't be ready before 2013, while Japan's Mitsubishi MRJ is more expensive.
The SSJ-100 is the most ambitious project of the Russian aerospace industry in recent years. It is the first passenger plane aimed at domestic and foreign markets to be manufactured after the collapse of the Soviet Union.
In Russia, the SSJ-100 could replace a fleet of the obsolete Tu-134s and Tu-154s, while globally it is hoped the aircraft would compete with offerings in the same class. The company is working on the assumption that the aircraft will take a 15 percent share of the market in the segment of jets with 60 to 120 seats, for which demand should reach 5,750 units by 2032.
SCA started the development of the SSJ-100 in early 2000, inviting more than 30 system and component suppliers to take part in the project, including Liebherr Aerospace, Thales, Â/Å Aerospace, Honeywell, Parker, Messier-Dowty, Goodrich, Artus, SAFT, Leach International, SNECMA and Boeing.
This collaboration was a first for Russia's aerospace industry. A totally new market-based management and technology structure was established. SCA assumed full responsibility for the product's life cycle, from design and development to marketing and sales to certification, manufacturing and servicing.
In addition, as a joint-stock company, SCA can take out loans or enter partnership alliances. The SSJ-100's key competitive advantages are its fuel economy, achieved thanks to its Russian-French SaM-146 engine, and its environmental standards, far exceeding all International Civil Aviation Organisation-mandated noise and emission requirements.
The SSJ-100 has also received a European Aviation Safety Agency certificate, confirming compliance with stringent safety requirements. Eleven SSJ-100s were in operation around the region as of the start of November.
They have performed about 8,000 commercial flights for a total of 15,580 flight hours, earning praise from pilots and airlines alike. Experts point out that the SSJ-100 is one of the most promising manufactured planes in the market. The order book for the plane has already reached 170 units and keeps growing.
All rights reserved by Rossiyskaya Gazeta.